Jeeves

Item Level

200

Requires Engineering (450)
Use: Requests the presence of Jeeves, the perfect gentleman robot butler, who will attend to your needs for 10 min.

Jeeves can grant bank access to very skilled engineers and perform mundane tasks such as buying, selling, and repairing for anyone.
Cooldown: 1 hours
Jeeves is a repair bot item crafted by engineers.
Jeeves is the first Repair bot that is not 'consumed' on use, although requiring a large amount of resources to craft. It is also the first bot to provide bank access, although only to Engineers.
Source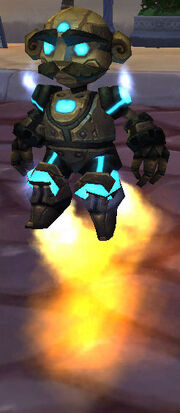 This item is created with Engineering (450) and taught by [Schematic: Jeeves].
Ingredient List
Notes
Like other repair bots, Jeeves does not survive logout*, or entering or leaving a battleground or instance.
*After summoning Jeeves in Dalaran, I logged my current character off and went straight to a different one in Dalaran. Jeeves was still there in the same place with his personal timer. So he DOES persist to a certain degree.
It is quite possible that Jeeves is a reference to the fictional butler valet gentleman's gentleman Jeeves, of P.G. Wodehouse fame.
Patch changes
See also
External links