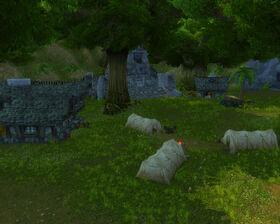 Kurzen's Compound
[58, 20.7]
is an unusual human settlement located east of the Rebel Camp in Northern Stranglethorn. The humans here are led by Colonel Kurzen, a former soldier of Stormwind City, and attack both the Horde and Alliance. The people of the Rebel Camp are embroiled in a deadly conflict with the jungle fighters Kurzen leads. At the back of the Compound is a cave system, The Stockpile, where the fighters keep their equipment.
The camp itself consists of multiple buildings, including houses, a lumber mill, stable, and ruined guard tower.
Inhabitants
In camp
South of camp [53.3, 22.9]
East of camp
Trivia
Kurzen's Compound is most likely a reference to Colonel Kurtz's compound from the movie Apocalypse Now.
Patch changes
External links