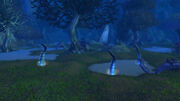 Lake Falathim
[20, 38]
is located in western Ashenvale, southeast of the Zoram Strand and southwest of Maestra's Post. Although it was once a popular place for night elves to go swim or fish, the lake was overrun with ferocious murlocs for a time. The scholar Teronis was last seen near the lake, and it bodes ill of his fate that he has not yet returned.

This section concerns content exclusive to Cataclysm.
The Murlocs have since deserted the lake, which is now dank and gloomy. The area is swarming with Tendrils from Below.[1]
Inhabitants
Quest giver
Mobs
Media
References
Regions of Kalimdor
Northern Kalimdor

Ashenvale

 ·

Azshara

 ·

Azuremyst Isle

 ·

Bloodmyst Isle

 ·

Darkshore

 ·

Darnassus

 ·

The Exodar

 ·

Felwood

 ·

Mount Hyjal

 ·

Moonglade

 ·

Teldrassil

 ·

Winterspring

Central Kalimdor
Southern Kalimdor
Kalimdor category