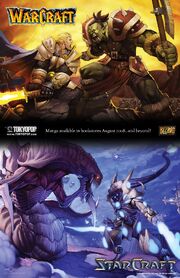 For famous heroes and villains, see Legend.
Legends is the name of a Warcraft manga anthology containing five volumes. It features short stories that are written by Richard A. Knaak, Mike Wellman, Dan Jolley, Troy Lewter, and Brian Yang and illustrated by Kim Jae-Hwan, Carlos Olivares, and Nam Kim.[1] The first volume was released on August 12, 2008 and the second volume on November 11 of the same year. Volume 3 was released on March 17, 2009[2] and the fourth on June 16 of the same year.[3] The 5th volume was released at September 2009.
Written by Richard A. Knaak, Troy Lewter, Dan Jolley, Grace Randolph, Aaron Sparrow, Christie Golden, Tim Beedle, Evelyn Fredericksen and

Louise Simonson

.
Art by Jae-Hwan Kim,

Mi-Young No

,

Carlos Olivares

,

Nam Kim

, Erica Horita, Elisa Kwon,

In-Bae Kim

, Fernando Heinz Furukawa, Qing Ping Mui,

Ryo Kawakami

,

Erica Awano

,

Seung-hui Kye

and

Rob Ten Pas

.
Covers by

Joe Vriens

and

Saejin Oh

, both from UDON.
Books
Gallery
References
External links

WoW Official Game Site (US)
Digital Manga App Launches With Free Warcraft: Legends
by Blizzard Entertainment, 30 May 2011 15:15 UTC
Warcraft books
Book type
Manga books