Lord General's Sword

Item Level

56

Main-Hand"Main-Hand" is not in the list (Back, Chest, Feet, Finger, Hands, Head, Held in off-hand, Legs, Main Hand, Neck, ...) of allowed values for the "Item slot" property.

Speed 2.6
67 - 125 Damage
(36.92 damage per second)
Durability 90 / 90
Requires level 51
Chance on hit: Increases attack power by 50 for 30 sec.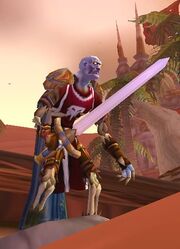 Lord General's Sword is a rare main hand sword from the Blackrock Depths.
Source
This item drops from General Angerforge in Blackrock Depths.
Notes
The estimated droprate is 20%.
External links