Blackrock Spire
e
Lower Blackrock Spire (5)

 Burning Felguard


 Spirestone Butcher


 Spirestone Battle Lord


 Spirestone Lord Magus


 Highlord Omokk


 Shadow Hunter Vosh'gajin


 War Master Voone


 Mor Grayhoof


 Bannok Grimaxe


 Mother Smolderweb


 Crystal Fang


 Urok Doomhowl


 Quartermaster Zigris


 Halycon


 Gizrul the Slavener


 Ghok Bashguud


 Overlord Wyrmthalak
Upper Blackrock Spire (level 100; 5)

Orebender Gor'ashan

 Kyrak


 Commander Tharbek


 Ragewing the Untamed


 Warlord Zaela
Old Upper Blackrock Spire (10)
Pyroguard Emberseer
Solakar Flamewreath
Jed Runewatcher
Goraluk Anvilcrack
Gyth and Rend Blackhand
The Beast
Lord Valthalak
General Drakkisath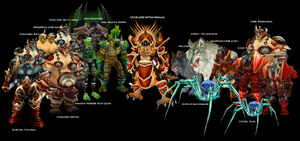 The area of the Blackrock Spire instance to the south of the Hall of Blackhand is commonly known as Lower Blackrock Spire. Though it is often treated as an independent instanced dungeon from Upper Blackrock Spire, it is in fact part of the same, huge instance. Before Patch 4.0.3a The Lower Blackrock Spire distinguished itself from Upper Blackrock Spire because it was designed for a 5-player party; Upper Blackrock Spire is now also a 5-player dungeon.
Background
The majority of Rend's Dark Horde reside in Lower Blackrock Spire, making the city a sort of sprawling barracks. Only the elite members of the Dark Horde are allowed to live in the upper reaches of the city. Overlord Wyrmthalak acts as the ruler and taskmaster of these soldiers.
See also: Blackrock Spire
The orcs of the Blackrock Clan dominate most of the ruins of Lower Blackrock Spire, though they are divided up into various legions. These include the Scarshield Legion, the Bloodaxe Legion, and the Firebrand Legion. The elite Blackhand Legion resides in Upper Blackrock Spire. The orcs share the city with a contingent of Spirestone ogres and Smolderthorn trolls, who are also members of Rend's Dark Horde. The ruins are also home to a host of Spire Spiders who have infested a ruined corner of the city.
Bosses
Enemies
Scarshield Grunt

(non-elite): Strike, Overpower

Scarshield Sentry

(non-elite): Shoot, Slowing Poison, Multi-Shot
Scarshield Raider: Strike, Hooked Net (Physical damage and immobolizes the target.)
Scarshield Warlock: Shadow Bolt, Scarshield Portal (Summons Burning Imps, Burning Felhound and Burning Felguard(rare).)
Scarshield Spellbinder: Counterspell, Resist Fire (Increases' target allies fire resistance by 83 for 1hr (buff).), Mana Burn, Arcane Bolt (1 sec cast, direct Arcane damage spell.)
Scarshield Worg: melees
Scarshield Quartermaster: melees

Smolderthorn Tribe
Encounters
Bosses
Monsters

Bloodaxe Veteran

Smolderthorn Mystic

Spirestone Battle Mage

Spirestone Enforcer

Spirestone Ogre Magus

Spirestone Reaver

Urok Enforcer

Urok Ogre Mage

Spire Scorpid

Spirestone Enforcer

Spirestone Mystic

Spirestone Ogre Magus

Spirestone Reaver

Smolderthorn Mystic

Smolderthorn Shadow Hunter
Map
Quests
Note: Most quests in Lower Blackrock spire can only be done in a 5 player group.

See Lower Blackrock Spire Walkthrough for aid in completing all the quests.
Badlands
Burning Steppes
Lower Blackrock Spire
Winterspring
Elsewhere
Loot
See Blackrock Spire loot.
Patch changes
Patch 1.10.0

(28-Mar-2006): Capped at ten players.


Patch 1.6.0

(12-Jul-2005): Crystal Fang, the rare spawn in Blackrock Spire, will now potentially appear.


Patch 1.3.0

(07-Mar-2005):

Capped at fifteen players.
Some Blackrock Spire bosses will now properly display their true level, instead of being considered world bosses (who do not display level).

External links