MMO Champion is a World of Warcraft news website run by Boubouille (Fabien Bonte,[2] also known as Bibi) started in 2007.[citation needed] In mid-2010, Curse acquired MMO Champion.[3]
While Bibi himself lives in France, MMO Champion shares a server cluster in the United States. We don't know the exact site audience, but some numbers[4] that we do have allows us to guess that it has no less then 10 million visitors per month (probably more).
Official MMO Champion IRC channel: #mmo-champion at Quakenet.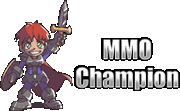 As a reference
MMO champion aggregates "Blue notes" (Community Manager notes, i.e. official Blizzard representatives). While posts on the official WoW forums will "drop off" after a few months, it is presumed that posts on sites such as this will persist longer, making them more suitable for use as references.
DBs
The first World of Warcraft DB hosted by MMO-Champion was called DB.MMO-Champion.com, nicknamed "Sigrie", but was replaced by the WoWDB sometime after August 2013.[citation needed]
References
See also
External links
Info

MMO-Champion Facebook page
Retired

MMO Champion DB
(also known as "Sigrie"; retired some time after August 2013)

YouTube
MMO-Champion
channel

YouTube
Topic - MMO Champion
blog
News

Curse News
Curse Network Downtime Explanation
by Nate430 Jun 24, 2011

Curse News
Curse.com - Back From An Extended Maintenance Period
by Nate430 Jun 24, 2011
Boubouille

WoW Insider
15 Minutes of Fame: Boubouille proves an MMO Champion
by Lisa Poisso May 5th 2009 at 4:30PM