MOLL-E

Item Level

80

Requires Engineering (425)
Use: Creates a portable mailbox for 10 min. MOLL-E is not destroyed after use.
"Mobile Oversized Letter and Literary Extractor"
Cooldown: 2 hours
MOLL-E is a device crafted by engineers. When used, it can create a portable mailbox, accesible by anyone, for the next ten minutes.
Source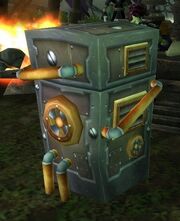 This item is crafted by engineers with a skill of 425.
Notes
This item is not soulbound, and the cooldown is on the engineer, rather than the device. Therefore it's possible to pass MOLL-E to a fellow engineer (provided that he/she has the required engineering skill) to deploy the mailbox while you are on cooldown.
Trivia
Inspired by the title character from the movie WALL·E, which stands for Waste Allocation Load Lifter Earth-Class.
Patch changes

Patch 3.2.0 (04-Aug-2009): Significantly reduced the cooldown.
            Reduced from 8 hours to 2 hours


Patch 3.0.8 (2009-01-20): Changed from common to rare item, cooldown reduced to 8 hours (down from 1 day), duration increased to 10 min, and can now be put into an Engineering bag.

External links