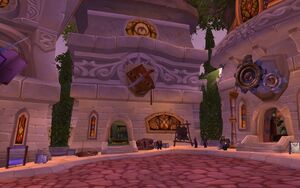 Magus Commerce Exchange is the name of the main trade district in Dalaran. It has trainers for every profession and secondary skill except fishing and cooking. Many of the trainers are from Alliance or Alliance allied races except the Goblins.
Despite being called a trade district, many npcs are more oriented towards training rather than vendors. And the ones that do sell, sell plans for professions.
Shops and NPCs

This section concerns content that is out-of-date. Reason: Need

Legion update.
Inner circle
Outer circle
Changes in Legion

This section concerns content exclusive to Legion.

Note: This is a generic section stub. You can

help expand it

by clicking

 Edit to the right of the section title.