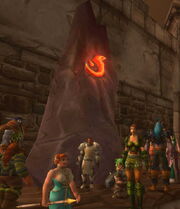 Meeting Stones, also known as Summoning Stones, are very large thumb-shaped stones with a mystical, glowing symbol that appear next to instanced dungeons. Originally[1], they were for filling in partial (or just-starting) parties whose members met the required level range[2] by auto-inviting suitable candidates.
In patch 2.0.1, Meeting Stones were reworked with the implementation of the new LFG system. They now are used to summon party members to the stone near an instance. One player targets a faraway player and clicks the Meeting Stone, creating a portal. When a second player clicks the portal, the targeted player is given a summoning dialogue very similar to the warlock's Ritual of Summoning spell.
Notes
Any character above level 15 can be summoned with these now. This can be helpful if you have two friends somewhere far away that you want to join.
"Stone etiquette" also generally assumes the two party members who can arrive fastest (by proximity or mount) should summon others barring obstacles. It is bad manners to keep the entire party waiting because no one is willing to interrupt their play and head over.
On PvP servers, several Meeting Stone areas are popular ambush points (e.g. Alliance attempting to use the Scarlet Monastery Meeting Stone in Horde territory, and close to an occasionally highly trafficked instance, will frequently find themselves ganged up on).
Patch changes
References
External links