This article or section contains information that is out-of-date.

Please replace the old information with up to date information.
This may include rewriting sections to ensure they are clear and concise, and wikifying.
See mount (disambig) for a less gigantic list with specific lists.
Mounts are a much sought after form of transportation in which players ride atop the backs of various more or less exotic beasts (or machines). They can be accessed via the Mounts and Pets window. Warlocks, paladins and death knights can learn to summon mounts as a class perk. The Alliance Worgen have a race skill Running Wild that they will get at level 20. Druids can shape shift into multiple forms that improve their speed. Mounted travel is almost always faster than walking/running (some vanity mounts such as Sea Turtle provide no speed benefit on the ground).

The Burning Crusade introduced flying mounts in select areas, which further increased the maximum possible player movement speed.

Cataclysm opened up much of Azeroth to flying mounts.
Mounts were generally expensive in the past, but their prices have been reduced while the training to ride them increased in order to compensate. However, some mounts do not cost any gold or other currencies (such as honor points) and will drop at very low drop rates from bosses in instances such as Stratholme, Zul'Gurub, Tempest Keep, Magisters' Terrace, Sethekk Halls, Karazhan, and Utgarde Pinnacle. There are numerous other methods to obtain mounts as well, such as class quests, completing achievements, and even a select few rare spawns drop mounts.
Mounts have a 1.5 second cast time, which will be interrupted by taking any damage, moving, or entering combat. Mounts also have a special emote that can be seen by either jumping (the Space key by default) while not moving or performing the /mountspecial slash command. For example hawkstriders will shriek and horses will rear up on their hind legs.
Riding skills and abilities
See Also: Riding
NOTE: After

Cataclysm, speed is not based on mount class but only on riding skill.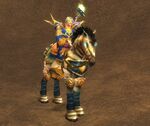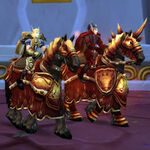 There are a total of five classes of mounts:

Ground mounts cannot fly, but flying mounts are able to run (or fly) along the ground in areas where flight is prohibited. Both flying and ground mounts can swim (but not any faster than swimming without a mount). Aquatic mounts can walk on land (but not any faster than walking without the mount). Vanity mounts confer no benefits (and thus, require no riding skill or character level).}}
General Riding Skill
There are five general tiers of riding which can be learned from trainers as a character increases in level. These become available for characters to train once they meet the particular level requirements. The speed of a character's mounts generally increases with each tier of riding skill, while some tiers of riding grant the ability to ride flying mounts. The general riding skills are:
Apprentice: Level 20
Journeyman: Level 40
Expert: Level 60
Artisan: Level 70
Master: Level 80
Class-Specific Riding Skills
At level 40, paladins and warlocks can learn [Summon Charger] and [Dreadsteed] from their class trainers after learning the Journeyman riding skill from the riding trainer. There is no need to purchase a new mount. Death knights receive their epic ground mount, the [Acherus Deathcharger], after the completion of the quests Grand Theft Palomino and Into the Realm of Shadows at level 55. Druids can learn [Flight Form] from any flight trainer at level 58.
Unlocking flight in specific areas
In areas where flying is allowed, a character typically needs to train a specific

 Riding skill in order to unlock the ability to fly in that region. These types of skills and their requirements can be found in the table below.
Riding Skills
Proficiency
Cost
+Speed
Required for
Requires
Skill
Mounts
Air
75
Apprentice
4
1
60%
Rare land mounts
Level 20
150
Journeyman
50
10
100%
Epic land mounts
Level 40
225
Expert
250
50
150%
Rare flying mounts
Level 60
300
Artisan
5000[1]
100
280%
Epic flying mounts
Level 70
375
Master
5000[2]
—
310%
Extremely fast speed
Level 80

[Flight Master's License]

250
—
—
Flying in Eastern Kingdoms, Kalimdor and Deepholm
Level 60 & 225 skill

[Cold Weather Flying]

500
—
—
Flying in Northrend
Level 68 & 225 skill

[Wisdom of the Four Winds]

2500
—
—
Flying in Pandaria
Level 90 & 225 skill

[Cloud Serpent Riding]

—
—
Flying Cloud Serpent mounts
(requirement removed in Patch 6.0.2)
Level 90 & 225 skill

[Draenor Flying]

—
—
Flying in Draenor
 

Draenor Pathfinder

[Broken Isles Flying]

—
—
Flying in the Broken Isles
 

Broken Isles Pathfinder, Part One


 

Broken Isles Pathfinder, Part Two

(Patch 7.2)
Increasing your speed
Through guild advancement
The guild perk [Mount Up] will increase your riding speed by 10%.
Through class abilities and talents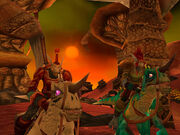 Shaman and Druids acquire shapeshift forms ([Ghost Wolf] for shaman and [Travel Form] for druids) that increase their movement speed (not as much as a mount, but it is trainable at an earlier level), while Hunters get aspects to boost their own movement speed and that of their party. Rogues and druids (in [Cat Form]) have an ability to temporarily increase movement speed. Here are the skills and abilities that provide some classes with a bit of a faster mount movement speed, either passively or by the activation of an ability.
 Death Knight

[Unholy Presence]

as of "Mists of Pandaria", Unholy Presence now grants an additional 15% movement speed, regardless of specialization.

 Hunter

[Pathfinding]

in the Beast Mastery talent tree (tier 3). Increases your speed while mounted by 5%/10%. The mounted movement speed increase does not stack with other effects.

 Paladin

[Pursuit of Justice]

in the Retribution talent tree (tier 3). Increases your movement speed (and mounted movement speed) by 8%/15%. This does not stack with other speed increasing effects.

[Crusader Aura]

at level 62. Movement speed while mounted is increased by 20%. The mounted movement speed increase does not stack with other effects.

[Aura Mastery]

in the Holy tree (tier 3) does not directly increase mounted movement speed, but it does boost Crusader Aura. With these two abilities combined, it is possible to increase mounted movement speed by 40% for 6 seconds every 2 minutes.
Through items and enchants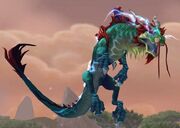 There are five other methods for increasing your mounted speed, with no effects beyond level 70:
These last two items effectively increase a mount's speed by 10%. However, they do not stack with the previously mentioned methods, so they are approximately (see below) a 1% improvement over using the above 3 items combined. It should be also noted that for players of WotLK the Riding Crop is only usable for two levels (69 and 70), and the Skybreaker Whip only for one level (70).
All speed improvement items work on both normal and flying mounts (with the exception of npc controlled point-to-point flight).

Characters higher than level 70 will not benefit from mount speed improvement items and enchants. With Cataclysm, the following are no longer available:
Available mounts
The tables below are separated based on mount source, such as purchase requirements, killing specific creatures, participating in world events, completing achievements or more.
Racial mounts
This table requires JavaScript to be enabled and site tooltips to be turned on to be displayed.
You can also view the data on another page.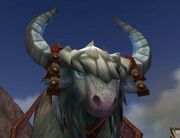 Racial land mounts are typically the first mounts players will acquire. To purchase a racial land mount, players must either purchase their race's mount (such as horses for humans, or wolves for orcs), or gain exalted standing with that race's representative faction (such as exalted with Darnassus to purchase sabers). Flying mounts do not require any reputation rating.
In the initial release of

Cataclysm, the worgen did not get a racial mount, but instead used the ability [Running Wild] to achieve mount-like speeds. However, a mountain horse mount (regular and swift) was added in Patch 4.3 as the worgen racial mount.
Class-specific mounts
This table requires JavaScript to be enabled and site tooltips to be turned on to be displayed.
You can also view the data on another page.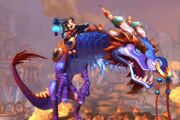 There are four classes in the game that can acquire special mounts and abilities linked to their own class through lore: death knights, druids, paladins, and warlocks. The original quests to gain the paladin charger, warlock dreadsteed, and druid's swift flight form are all still in-game and reward feats of strength if they are completed. The aforementioned quests are not required to learn the ability, however, and are on the class trainers at the level listed in the table.
Druid and paladin abilities are slightly different based on race and faction. For example, the Alliance charger is blue and golden, while the Horde version is red and bronze. Similarly, night elf druids are black in flight form, while tauren are tan. With Cataclysm, it seems that tauren and draenei paladins will not be getting chargers, but special types of Kodo and Elekk mounts, respectively.[3][4]
PvP mounts
This table requires JavaScript to be enabled and site tooltips to be turned on to be displayed.
You can also view the data on another page.
PvP mounts can be obtained by exchanging honor points or other world PvP currency. For Arena rewards, see the Arena section.
Quest reward mounts
This table requires JavaScript to be enabled and site tooltips to be turned on to be displayed.
You can also view the data on another page.
Some laborious or involved quest chains reward mounts.
Faction reward mounts
This table requires JavaScript to be enabled and site tooltips to be turned on to be displayed.
You can also view the data on another page.
As a reward for gaining high reputation standing with various factions, players can purchase mounts. Such high reputation is a function of large quantities of time.
Rare drop mounts
This table requires JavaScript to be enabled and site tooltips to be turned on to be displayed.
You can also view the data on another page.
Rarely, specific creatures will drop a mount as a reward. If the mount drops, only one mount will appear per kill, no matter the size of the party or raid killing the creature. Also, mounts may rarely be inside other containers rewarded for doing other objectives.
Guaranteed drop mounts
This table requires JavaScript to be enabled and site tooltips to be turned on to be displayed.
You can also view the data on another page.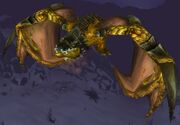 A guaranteed drop mount will result in one mount being awarded upon killing the specified creature under the condition listed, regardless of the size of the party or raid. For mounts rewarded such that everyone who completes the achievement gets the mount, see the "Achievements" section. There is no direct achievement for killing the Time-Lost Proto-Drake; the hard part is actually finding the drake alive.
Crafted mounts
This table requires JavaScript to be enabled and site tooltips to be turned on to be displayed.
You can also view the data on another page.
Mounts can also be created by players via professions. Typically such mounts are a perk of the profession and are not available to other players, but a few are.
Purchasable mounts
These mounts are available to all players, with no requirements outside of gold or emblems.
General mounts
This table requires JavaScript to be enabled and site tooltips to be turned on to be displayed.
You can also view the data on another page.
Argent Tournament mounts

This section concerns content exclusive to Wrath of the Lich King.
This table requires JavaScript to be enabled and site tooltips to be turned on to be displayed.
You can also view the data on another page.
A major draw of the Argent Tournament is the large quantity of mounts rewarded in exchange for [Champion's Seal]s.
Amphibious mounts
Main article: Amphibious mount
Amphibious mounts confer a slight increase in swim speed, but move no faster than walking while on land. Amphibious mounts do not give their riders the ability to breathe underwater, so plan accordingly with one of appropriate items or abilities.
Aquatic mounts
Main article: Aquatic mount
For the Subdued Abyssal Seahorse, see quest rewards.
For the Subdued Seahorse, see Guaranteed drop mounts.
Aquatic mounts confer an increase in swim speed, but cannot be used at all on land. Aquatic mounts do not give their riders the ability to breathe underwater, so plan accordingly with one of appropriate items or abilities.
Achievement system mounts
This table requires JavaScript to be enabled and site tooltips to be turned on to be displayed.
You can also view the data on another page.
These mounts are obtainable by completing certain achievements. As part of completing the achievement, the mount will be mailed directly to the player, or available for purchase at select locations.
Holiday mounts
This table requires JavaScript to be enabled and site tooltips to be turned on to be displayed.
You can also view the data on another page.
There are several disguises and time-limited items that are available during holidays. Disguises simply turn the player's mount into something "more festive" like a kodo or a reindeer but do not otherwise affect mount mechanics. Time-limited items exist only during the duration of the holiday itself. Previously, time-limited items had a set time such as seven or 14 days, but were changed to be directly tied to the holiday.
Back during Brewfest 2007, an ["Honorary Brewer" Hand Stamp] was available for purchase and granted access to the [Brewfest Ram] and [Swift Brewfest Ram] vendors. Coren Direbrew (the holiday boss in the Grim Guzzler of Blackrock Depths) had not yet been implemented, so completing the quest was the only way to get the mounts. The hand stamp was removed for the 2008 Brewfest and the Swift Brewfest Ram added to Coren Direbrew's loot table (along with the new [Great Brewfest Kodo]), but the 60%-speed Brewfest Ram can no longer be purchased except by players who completed the Hand Stamp quest.
Outside of game mounts
This table requires JavaScript to be enabled and site tooltips to be turned on to be displayed.
You can also view the data on another page.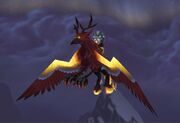 The mounts in previous sections are acquired using solely in-game means. The mounts that follow require some real-world interactions, such as getting a rare loot card in the TCG, going to BlizzCon, the Recruit-A-Friend program, sending a Scroll of Resurrection, or purchasing mounts from the Blizzard Store.
Passenger mounts
Main article: World of Warcraft passenger mounts category
Retired mounts
Arena System reward mounts
This table requires JavaScript to be enabled and site tooltips to be turned on to be displayed.
You can also view the data on another page.
At the end of each Arena season, the top 0.5% of teams in the 3v3 and 5v5 bracket each battlegroup are rewarded with a 310% speed flying mount. Such mounts are inherently time-limited and are not currently available.
Removed from game mounts
This table requires JavaScript to be enabled and site tooltips to be turned on to be displayed.
You can also view the data on another page.
These mounts are no longer obtainable in the game.
Flying mounts in Kalimdor & Eastern Kingdoms
At BlizzCon 2009 it was revealed that flying mounts would be available in some form to use in Kalimdor and the Eastern Kingdoms with the release of the next expansion, titled "Cataclysm". Blizzard officials had previously stated that it was unlikely that they would allow flying mounts in these continents, since doing so would require them to re-design the continents with flying mounts in mind.
Throughout the first few years of World of Warcraft (up to and including Wrath of the Lich King), the Eastern Kingdoms and Kalimdor were unsuitable for flying mounts; there were visual glitches like mountains and high buildings whose tops could not be seen from ground-level, and places where the terrain abruptly changed from one tileset to another, creating a grossly unrealistic appearance in some areas. There were also zones which should have existed lore-wise, but were empty and unfinished.
With the release of Cataclysm, rebuilding the continents is precisely what zone developers did, allowing players to finally see the world of Azeroth from above.
Vanity mounts
Main article: Vanity mount
Vanity mounts only exist to put the player on a mount. They confer generally no bonuses to movement speed, and thus require no riding skill. The two non-temporary, vanity mounts are the [Rickety Magic Broom], a fairly common reward for completing daily quests during Hallow's End, and the [Riding Turtle], available from the TCG.
Media
Videos
Media
Videos
Circa

Although created by BellularGaming, these videos were posted on the official WorldofWarcraft channel.
Notes
Mounts have a special emote they can do: This can be invoked while motionless on the ground, either by the /mountspecial slash command, or by pressing the

Space

key
Flying mounts can perform a loop! Press Pitch Up or Pitch Down (normally

Ins

and

Del

) while in flight to perform a loop. On a Mac, the

Help

key, or the

Fn

+

Del

combination (on the laptop) will start it.

Additionally, while in a loop, you can use your strafe keys.
Patch history
Legion

This section concerns content exclusive to Legion.
Warlords of Draenor

This section concerns content exclusive to Warlords of Draenor.
Mists of Pandaria

This section concerns content exclusive to Mists of Pandaria.
Patch 5.2.0

(5-Mar-2013): Upon reaching level 20 and level 60, characters will automatically receive a new quest directing them to visit the racial riding trainer and mount vendors.

β

Patch 5.0.1

(Beta): Most mounts will be Account-wide mounts.

Cataclysm

This section concerns content exclusive to Cataclysm.
Patch 4.2.0

(2011-06-28):

[

Vicious War Steed

]

or

[

Vicious War Wolf

]

awarded for winning 75, 150, or 300 rated battlegrounds.

/

Patch 4.0.1

(12-Oct-2010): All mounts now scale to the appropriate riding skill. This means that all 310% speed mounts earned from achievements or were awarded from this patch onward are 280% in order to match the current max riding skill, Artisan. Players who already have a 310% mount are grandfathered into the system.
            PvP mounts now cost 2,000

/

Patch 4.0.1

(12-Oct-2010): Mounts that are both ground and flying will no longer need to be dismounted and then re-mounted to switch between types. This will now be automatic.

Wrath of the Lich King

This section concerns content exclusive to Wrath of the Lich King.
Burning Crusade

This section concerns content exclusive to The Burning Crusade.
Patch 2.4.3

(2008-07-15): Mounts at 30?! Yes, it's true: Apprentice Riding and mounts are now available at level 30. Training costs 35.


Patch 2.3.0

(13-Nov-2007):

Nutral

, the flight master in Shattrath City, now has a quest for characters who are level 70 and do not yet have a riding skill of 225. The quest will direct a character to visit the appropriate riding instructor in Shadowmoon Valley so that the player will know where they can purchase the skill necessary to use a flying mount.


Patch 2.1.0

(22-May-2007):

Swift Flying Mounts: All the swift flying mounts will now display as epic items, rather than superior-quality items.
Using abilities and casting spells that cannot be used while mounted will now auto-dismount players as needed. This can be disabled by turning off the auto-dismount option in the UI options.
New Lua conditional [flyable] which is true if you're in a location where you could use a flying mount.


Patch 2.0.3

(09-Jan-2007): New macro command: /dismount

/

Patch 2.0.1

(05-Dec-2006): Honor system revamp
            PvP mounts no longer limited to rank 11s, now available for 30 30 30 each.

Classic

This section concerns content exclusive to World of Warcraft.
References
See also
External links
Info
News
Info
Old