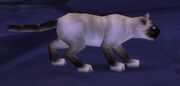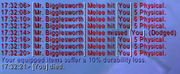 Mr. Bigglesworth is a capturable level 5 Birman house cat belonging to Kel'Thuzad, found just inside the entrance to Naxxramas. Killing him causes Kel'Thuzad to yell:
Kel'Thuzad yells: No!!! A curse upon you, interlopers! The armies of the Lich King will hunt you down. You will not escape your fate...
Lecture
Commander Eligor Dawnbringer says: The last living creature in Naxxramas, this cat is said to be the last thread connecting Kel'thuzad to his mortal life. It is said that any who dare to harm a hair on his head doom themselves to... wait a second, what is he doing on there?

Commander Eligor Dawnbringer pounds on the display a few times.

Commander Eligor Dawnbringer says: Well, nevermind. I'm sure no one would be foolish enough to lay a hand on Kel'thuzad's precious pet.
See also: Image of Mr. Bigglesworth 
Notes
In Hearthstone, when playing against Kel'Thuzad with the hunter, using the Animal Companion spell card will spawn Mr. Bigglesworth instead of Misha, huffer or leokk.
Despite rumors spread by some players, killing Mr. Bigglesworth has no effect whatsoever on any aspect of the instance.
The Lil' K.T. vanity pet will kill Mr. Bigglesworth, despite the irony of the situation.
He is rewarded after the completion of the Raiding with Leashes achievement.
He is a requirement of the Crazy for Cats achievement.
Trivia
External links