Murloc Costume

Use: It's a murloc costume.
Cooldown: 1.50 sec
6 sec cast

The Murloc Costume is an item allowing players to dress up as murlocs. It was released at BlizzCon 2007 for participants.
Where to redeem your code
This section concerns content that is potentially inaccurate.
NPCs who will give you your Murloc Costume after you've entered your code at the link in the External links section.
Official pre-BlizzCon info

BlizzCon Swag, Beta Key and Murloc Suit! | 2007-06-04 17:40 |
Eyonix
All BlizzCon attendees will receive their share of free Blizzard swag, to be announced in a future update. We'll also be providing a beta key for an upcoming Blizzard game. If you're not enticed yet, you should definitely check out the in-game murloc suit below, an item that can be redeemed and given to your favorite World of Warcraft character. Love or hate the murlocs, you won't want to miss this opportunity to blend in with them!
http://www.blizzard.com/blizzcon07/goodies.shtml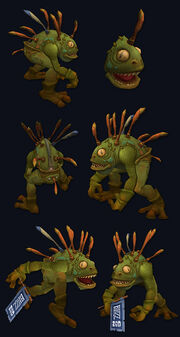 Achievements
Notes
The costume was a non-equipped bag item with a 6 second cast time before it became a toy.
The effect has no cooldown, but it triggers a 1.5 sec global cooldown, and the effect is broken when you cast a spell, attack, eat food, or take damage.
It has almost all emotes that normal chars are capable of doing.
Useable at any level and therefore available for twinks.
The zipper on the back of the costume says "EPC" and it means Ezra "Phoenix" Chatterton, the name of a child that Blizzard helped through the Make A Wish foundation.[citation needed]
From BlizzCon 2007 through sometime in the first half of 2008, both of in-game redemption NPCs wore the murloc costume so you could see what it looks like. This is no longer true.[1]
Patch changes
References
External links
Redemption link

WoW Official Game Site (US)
Promotion Code Retrieval Page (Retrieve In-game Codes)