Netherwhelp's Collar

Item Level

20

Use: Teaches you how to summon this companion.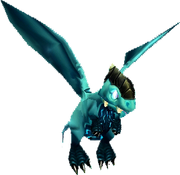 Netherwhelp's Collar summons and dismisses Netherwhelp, a dragon whelpling companion. The Netherwhelp is the juvenile stage of a Nether drake.
Source
This item is available only to people who bought the Collector's Edition of the Burning Crusade expansion pack.
Unlike the pets from the Collector's Edition of World of Warcraft, the Netherwhelp's Collar item is attached and sent to all your characters, present and future, in the mail as soon as you upgrade your account. Blizzard had originally announced that once you upgrade your game, you cannot re-upgrade it with a Collector's Edition at a later time. This means that the characters associated with your regularly upgraded account could never obtain this item, with a transfer of a character to a Collector's Edition account not allowed. [1]
However due to numerous requests, Blizzard officially announced on January 22, 2007 that they are working on a solution to help customers re-upgrade their accounts. Those who fall in this category are asked to contact their Billing and Account Services department. Those who posted in the thread at the WoW forum have mentioned their having been able to get their accounts manually re-upgraded using this method. [2]
Notes
The Netherwhelp pet caused much anger in Europe because Blizzard didn't put a code to get the pet, only the standard one to upgrade an account to a normal Burning Crusade account. To compensate for this production error, they implemented a new way to obtain the item that involved:
Finding a unique reference card found at the back of the World of Warcraft Trading Card Game exclusive cards pack and the barcode on the back of the box,
printing your account management page (or writing down your account name and e-mail address) and,
sending these all in one package to Paris, Blizzard HQ.
Many fans were angered because the items to send were a part of the Collector's Edition. In response to the additional inconvenience, Blizzard added 2 days of gametime to all affected accounts and offered them a second exclusive pet: Lurky the murloc.
---
Receiving your Netherwhelp:
Another note for North American players is your Netherwhelp is sent to you via the in game mail. Unlike the first World of Warcraft Collector Edition where you completed a quest in your starting zone. You have to travel from your starting zone to the closest mailbox, which is normally no more than a 5 minute walk. You have 30 days to pickup your Netherwhelp before it is lost. So its important if you were creating alternative characters or have many characters across many servers to pick up your whelping within 30 days to avoid losing your whelp.
Patches and Hotfixes

Patch 2.1.0 (22-May-2007): the Netherwhelp's Collar received a new unique icon. The Netherwhelp itself also had its animations redone to match the other dragon whelplings, and plays the same sounds as the Dark Whelpling when selected by a player.

External links

Official European Netherwhelp Redemption Guide

Collector's Edition pet redemption FAQ

WarcraftPets