See Newbie Guide for links to section pages.
There are a few things to keep in mind when you pick a server to play on.
Where are Your Friends Playing?
What's Your Time Zone?
Which Language Do You Prefer to Speak In?
What's the Server Population?
What is the Horde/Alliance Breakdown?
What Kind of Experience Are You Looking For?
Character Creation
There is a very slight (+/-3 points) stat difference based on race; starting stats are determined mainly by your race. Your race choice determines your faction allegiance (either Horde or Alliance), your starting area, and your Racial Traits. What you can do with your character, however, is determined mostly by your choice of class. See the Race and Class pages for discussions of the different race and class options.
Race
As your character increases in level, these racial differences become negligible with the exception of racial traits, which can be strategically useful in some situations. Therefore, play the race that you find most interesting based upon appearance and racial traits, and don't sweat the little differences.
One important note: The Alliance vs. Horde distinction is a very important one, as you will only have very limited interaction with those on the opposing side, outside of combat. If you're playing on a server with friends, you all want to be on the same side so that you can chat, etc., so make sure you all either select Horde races or Alliance races.
Classes

e

Class races
Dk
Dh
Dr
Hu
Ma
Mo
Pa
Pr
Ro
Sh
Wl
Wr
Quests
Dk
Dh
Dr
Hu
Ma
Mo
Pa
Pr
Ro
Sh
Wl
Wr
Abilities
Dk
Dh
Dr
Hu
Ma
Mo
Pa
Pr
Ro
Sh
Wl
Wr
Spec
Dk
Dh
Dr
Hu
Ma
Mo
Pa
Pr
Ro
Sh
Wl
Wr
Talents
Dk
Dh
Dr
Hu
Ma
Mo
Pa
Pr
Ro
Sh
Wl
Wr
PvP Talents
Dk
Dh
Dr
Hu
Ma
Mo
Pa
Pr
Ro
Sh
Wl
Wr
Trainers
Dk
Dh
Dr
Hu
Ma
Mo
Pa
Pr
Ro
Sh
Wl
Wr
Glyphs
Dk
Dh
Dr
Hu
Ma
Mo
Pa
Pr
Ro
Sh
Wl
Wr
Builds
Dk
Dh
Dr
Hu
Ma
Mo
Pa
Pr
Ro
Sh
Wl
Wr
Tactics
Dk
Dh
Dr
Hu
Ma
Mo
Pa
Pr
Ro
Sh
Wl
Wr
Armor sets
Dk
Dh
Dr
Hu
Ma
Mo
Pa
Pr
Ro
Sh
Wl
Wr
Starting a
Dk
Dh
Dr
Hu
Ma
Mo
Pa
Pr
Ro
Sh
Wl
Wr
PvE
Dk
Dh
Dr
Hu
Ma
Mo
Pa
Pr
Ro
Sh
Wl
Wr
PvP
Dk
Dh
Dr
Hu
Ma
Mo
Pa
Pr
Ro
Sh
Wl
Wr
Macros
Dk
Dh
Dr
Hu
Ma
Mo
Pa
Pr
Ro
Sh
Wl
Wr
Can't decide what class to play? Make one of each that sound interesting (you can have up to 10 characters per server), play them up to level 5-15 or so, and decide then. It only takes an hour or two to get the first few levels, and then you'll have a much better idea of what it's like to play each class. You may still miss out on the more significant parts of playing a class, as some important skills are given at level 20 or 30 for the first time, but you will get the gist of the class so that you can at least understand what higher level characters are talking about. Alternatively you can read the description of each class to have a general idea of them.
An important factor to consider when choosing a class is whether there is going to be much demand for characters of your class in groups. Generally, tanks and healers are in higher demand than damage dealers for most servers. Therefore, if joining instance group/raid is you first priority, choosing classes that can spec tank or healer may improve you chance of getting invited.
For those who want to be the tank in instances, warrior (Protection), Death Knight (Blood), paladin (Protection) and druid (Guardian) are your choices. With the right gear and spec, they can have higher health and armor than the rest of the party. You can absorb large amounts of damage and prevent others from being attacked. Warriors and paladins can wear mail at lower level and plate after level 40, which provide them with very good armor and survivability. Druids can only wear leather or cloth. However, they get Bear Form and Dire Bear Form at level 10 and 40 respectively, which gives them large amounts of health and armor bonus (Bear Form is similar to a Warrior in Mail armor, Dire Bear form is similar to a Warrior in Plate armor).
If you want to heal others, priest (Holy/Discipline), druid (Restoration), paladin (Holy) or shaman (Restoration) can be considered. All of these classes, with specific talent point allocations, will make a competent main healer. In addition, all of them provide useful buffs to the other members of the party. Paladins have auras which buff all players in their group within a radius, and beyond that have blessings that they can cast on anyone that give different benefits. Shamans have totems which act similar to auras in that they buff party members near them, but they have very different benefits. Druids can increase the critical hit chance, spell critical chance, or amount of healing done to the entire party, in bear/cat form, or moonkin form, respectively. Priests' stamina buff is always useful to everyone. With certain specs they can also help party members regaining mana at a much faster rate.
The five classes mentioned above can also be damage dealers(DPS Damage Per Second) with the right gear and spec. However, there are four classes that can be considered as pure damage dealers: mage, warlock, rogue, and hunter. Mages excel at dealing massive magical damage to their enemy. Their powerful AoE damage is helpful in many encounters. Warlocks have abilities to summon a demon as a pet which will do the player's bidding, and are 100% controlable in every aspect by the summoner. They are famous for their DoT spells. Rogues have stealth abilities, can open locks, and can deal lots of damage by sneaking up behind enemies and using stealth only abilities such as Ambush. Hunter is the only ranged class in game that do mainly physical damage. They can tame pets to help them in a fight. Depending on what type of pet you decide to tame, you get different spec options for your pet. Go to the Pet talents page for more information on pet specs. Hunters also have the unique ability of putting down various traps to help the party and handicap their opponent(s). Depending on their spec, they can also boost their party members' damage output in different ways.
To see what the population for each class is on a given server (or all servers) for one faction or another, see Warcraft Realms.
See also: Choosing a Class 
Name
Picking a name can be tricky. Nearly everyone wants something unique, awe-inspiring and/or "cool". However, the name you pick does tell others something about you.
Keep in mind that your name needs to be easily typable in conversations, and that it probably shouldn't clash too much with the warcraft/medieval themed environment. Names that you probably shouldn't pick include:
Legolas - Wrong universe. Too unoriginal. Far too commonly used already than you may expect.
Mrcoolguy / Iownyousohard - More than anything, this suggests to other people that you're immature. Maybe you are, but not making it quite so obvious makes it a tad easier to earn the respect of other players.
Lukeskywalker - Wrong time, wrong universe.
Joë / Jôe / Jœ - If you use special characters in your name, expect to find that most people do not know how to type your name (which means a lot of trouble later in the game), and you may encounter error on your armory page as well as when you try to link to it. See below.
Picking something unobtrusive that actually sounds like a name is usually your best bet. Your name doesn't have to be cool to make you cool. You make your name cool by who you are and what you do; WoW may be massively multi-player, but the core population of any given server is really only a couple hundred players. Rumors, names and stories of feats do travel quickly.
Can't decide on a name? Try BehindTheName.com.
What if the name you want is already taken? It is commonplace to see several spelling variations on a name, but you should stay away from strange characters (like æ, ø, and œ) that are not common to the language or are in the extended character sets. The biggest reason for this is making it easier for others to type in your name. So, if you find 'Joe' is taken, don't replace it with 'Joë' or 'Jôe' or 'Jœ'. Instead, try 'Joey', 'Joseph', or other variations.
Name generators
Fantasy or Warcraft
Totally random

BestLittleBaby.com Name Generators  Name Generators
Gender
Lastly, you can choose your gender, male or female (of course!) when creating a new character. Functionally, there is no difference between a male or female character in effect, only appearance. The only in game differences are the appearance, animation and speech. When in doubt, choose according to your real gender. Nevertheless, some people like to do otherwise for various reasons. As a rule of thumb of playing World of Warcraft as well as any other MMORPG, do not assume the gender of anyone by the look of their character!
Getting started video
Character creation guide

Circa Cataclysm by Nivarka.
Intro Fly-thru and Starting Areas
Intro Fly-thru
Starting Areas
Name and selection circle colors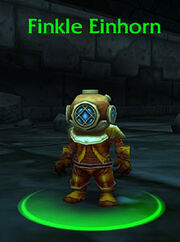 Friendly NPCs will have green names, neutral creatures will have yellow names, and hostile creatures will have red names.
Most NPCs you will first encounter should be friendly.
The first mobs you see will have yellow names. They are neutral and will not attack you until you attack them. Neutral creatures become hostile when attacked, but will revert to neutral if you go out of attack range for long enough. Soon enough, you will find hostile monsters that will attack you automatically when you get within a certain range called aggro radius. Almost all your kills will come from these hostiles. Later you may find unfriendly neutrals with their name in orange. They are like neutrals, but you cannot trade or talk to them. Usually they are members of a faction and if you do quests for them or kill their enemies, you'll get reputation...
Player characters of the same faction as you and their pets will generally have blue names. You may see that other players have red, yellow, or green names. For these conditions, see PvP flag.
Getting Better
There are many ways to improve your character from merely grinding (killing monsters for what they drop and the experience they give), to questing, PvP, crafting (learning and improving professions), or just gathering.
Ultimately, you'll want to gain levels so you can improve your fighting or spellcasting, but also because you need higher levels to improve professions and access cool things such as mounts. Also, to make your character more competitive you will want to get better gear and skills. For most of that you will need money, but can also be gained through quests and PvP.
Getting Experience
Training New Skills
Quests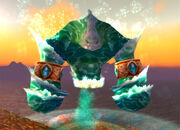 Quests are the core of the World of Warcraft experience. From around level 10, you will almost always have a dozen active quests in your quest log. A lot of the time, if you're like many, your log will have the maximum of 25 quests in your log. It is good, however, to limit this as well as is reasonable, because others frequently have quests to share with you. The more of the group working on the same quest, the better, as you can all work to a common goal and you each know distinctly what that goal is.
Quests are obtained from NPCs, from items in the world, or shared from party members. Not all quests can be shared, and there are many quest lines that you must follow from the beginning; you cannot skip within a quest line. Along with the

expansion, NPCs who offer quests will have their names floating above their head (green for quest givers of the same faction and yellow for quest givers who will give quests to either faction or are not yet friendly.
In your starting area, you will find some quests that are common to all, and for some classes, you will have some class-specific quests. All of these quests are good to start gaining experience. These often include killing low-level creatures in the area or speaking to one of the nearby NPCs.
You can identify quest giving NPCs from the ! over his head. Talk to the quest giving NPC to get the quest. The giver of a quest you have yet to complete will have above his head a silver ?. When you complete the quest by meeting its requirements, the quest giver will have a ? over its head. These symbols will also appear on your mini-map to help in navigation and discovering new quests.
Note: If you have the requirements, but some items are in the bank, you must retrieve them to finish the quest. They must be in hand. Otherwise, it will appear as though the quest is bugged when it's not.
Most of your first 10 levels will come from quests and from monsters you kill as a part of doing quests. While a good group is a very good thing, if you find yourself in a party that wanders around killing non-quest monsters and doesn't seem to be working towards a quest, it may be better to go questing alone. Most frequently, groups involving different classes are much more effective than groups of only one class, or being solo. Also, in groups, players can share many quests with one another so that all of them can be doing the very same quest, and if the quest involves only killing monsters, each monster killed contributes to everyone's quest. If a quest involves picking up an item from one specific mob, all party members can pick it up at once.
You should always take the time to read the quest information. It will almost always tell you where to go in order to complete the quest objective, or occasionally tell you to check an item in your Inventory for detailed information regarding your objectives (quests that do not tell you where to go or what to do are few and far between).
Obtaining Wealth
You gain money in World of Warcraft by completing some of the quests (some of them have no monetary reward associated with them), killing mobs and looting their corpses, selling excess inventory items to the vendor NPCs or on the Auction House, or learning one or more professions. Don't forget to pick a profession and skill it up as much as you can in the early levels. Trying to max out your profession after you hit a very high level (60+) is a tedious and very undesirable process. As you go up in level, both the quest rewards and the money from mobs increase, as a general rule. Also, humanoid and undead mobs drop loot for more cash per kill than any of the beast type mobs who aren't quest-related. Upon completion of a quest at your maximum level (60 during original, unexpanded

WoW, or Vanilla WoW, 70 during

The Burning Crusade, 80 during

Wrath of the Lich King, 85 during

Cataclysm, 90 during Mists of Pandaria, and 100 during Warlords of Draenor) you receive a monetary reward instead of experience. The same rules apply, you get more money if the quest was more difficult.
Effective use of the auction house can be a very lucrative source of income even for low level characters. Many experienced and wealthy players wish to experiment with crafting professions on lower level characters, but they don't want to go through the trouble of gathering the materials in newbie zones. Therefore, you might be surprised by how much you can charge for non-gray items that drop off of low level mobs. Boar meat and linen cloth can net you a lot more money than normal questing. In addition, consider picking up two out of the three gathering professions (skinning, mining, and herbalism) in order to sell the material.
Learning a crafting profession is more fun for many players than gathering, but making money with crafts can be more difficult. Raw materials (herbs, gems, ore, and skins) will often sell for more money than finished products that you can create with a tradeskill (armor, weapons, glyphs, potions, and other items). You can search the auction house to discover how much is a reasonable rate to charge for your items. Remember that prices can change as a response to supply and demand, so it is possible to improve your profits by holding onto your products and timing the market. When you get more experienced in the game, don't forget to investigate useful AddOns to give you that extra edge.
Historically, service professions, like Enchanting were difficult to make money with, but with the addition of vellums to apply your enchants and new tools in the profession windows for selling in the trade channel, these professions have found some new life as money makers.
In addition, there are always the Trade Channel (only in cities) and the auction house (which appear in all racial capital cities, including Orgrimmar, Thunder Bluff, Silvermoon, and Undercity for Horde and Darnassus, Ironforge, Exodar, and Stormwind for Alliance) where you can hawk your wares. All auction houses associated with a particular faction are linked, and there are also neutral auction houses which are also linked. The neutral auction houses are more expensive to post for sale (on the order of three times), and are not linked to either of the primary factions.
Rest
Fighting and Dying
Traveling Around
Travel guidese
Alliance Travel Guide
Horde Travel Guide

• Stormwind to Booty Bay
• Rut'theran Village to Booty Bay
• Ironforge to Gadgetzan
• Menethil Harbor to Gadgetzan
• Darnassus to IF/SW
• Desolace to Silithus


• Thunder Bluff to Orgrimmar
• Crossroads to Gadgetzan
• Crossroads to Booty Bay
• Reaching the Badlands


• Deeprun Tram and Boats
• Zeppelins and Boats
Outland
• Outland (Alliance)
• Outland (Horde)
Shared Paths
• Special Occasions
• Wintergrasp and Dalaran
By continent/region
• Eastern Kingdoms zones
• Kalimdor zones
• Outland zones
• Northrend zones
• Maelstrom and Cataclysm zones
• Pandaria zones
This page describes the various ways to move around on the maps of World of Warcraft.
The table above guides you to instructions for specific routes. If you want or need a travel route added to this table, please put your request in the discussion page.
Help from other players
If you are a low level character and wish to travel somewhere but the way is too dangerous, a good option is to have a mage portal spell you to the capital cities of your faction, or Shattrath

, Dalaran

, Tol Barad

, or Shrine of Two Moons/Shrine of Seven Stars

. Alternatively a warlock can use Ritual of Summoning with two other players to get you almost anywhere. Either method should get you closer to where you want to go.
Alliance mages get the portal spells to: Ironforge, Stormwind, Exodar, Darnassus and Theramore Isle at level 42; Shattrath City at level 66; Dalaran at level 74; Tol Barad at level 85; and Shrine of Seven Stars (named Vale of Eternal Blossoms) at level 90.

Horde mages get the portal spells to: Undercity, Orgrimmar, Silvermoon and Thunder Bluff at level 42; Stonard at level 52; Shattrath City at level 66; Dalaran at level 74; Tol Barad at level 85; and Shrine of Two Moons (named Vale of Eternal Blossoms) at level 90.
All warlocks can learn Ritual of Summoning at level 42.
It is generally considered common courtesy to include a tip for the mage's trouble. As with all player characters, mages vary in temperament and helpfulness, although 2-3 gold is usually sufficient to buy a portal from any mage. Warlocks need two party members present (in addition to the warlock), to perform a summons so they don't commonly perform one unless you are already in their party or in their guild.
Of course these methods can cost money and if you are not hiking you will not pick up flight path points. Still, the above options are the fastest ways to reach your desired destination.
Inns and the Hearthstone
Main article: Hearthstone
When each player starts a new character, they automatically receive a hearthstone in their inventory that can be used for instant travel back to whatever inn it is bound to. Binding at an inn involves speaking to the innkeeper and selecting the "Make this inn my home" option. The hearthstone can only be used once every 30 minutes,(15 minutes if you are in a guild level 8 or higher) though shaman have a spell (called Astral Recall) with the same effect. Shamans don't get it until level 34. If you accidentally delete your hearthstone, don't panic. Simply speak with an innkeeper, make that inn your new home, and you will receive a new hearthstone.
Flight masters
One of the most common forms of transportation in World of Warcraft is flying. Gryphons and hippogryphs provide this for the Alliance, while wyverns, dragonhawks, and bats are aligned with the Horde. Many settlements have a flight point, with an NPC who will allow you to travel to various connected points for a fee. as long as you have traveled there before and have talked to the flight master there. (not long before Flight paths were automatically learned, but they removed that again. you will need to have visited every flight point until you reach much higher level (70-90)) you will not be able to control the beast you are riding on. so sit back and enjoy the view. While in flight, you cannot perform any skills (except for activating certain auras), but you can tinker with macro functions, set up your action bar, equip gear, chat, and adjust your game configuration settings. This is an excellent time to change your video settings, especially if your computer is slow to change them. (The color-depth settings are reset to default each time you load the game.) finally, if you log out during the flight or enter an dungeon/battleground/raid. the spot will be saved with you on the beast. and the next time you enter azeroth. you will safely sit on it. but it will only continue to the next flight point and drop you there, instead of flying on to the final destination.
Boats and zeppelins
Travel between the two continents and to locations more remote than are accessible via flight path is done via large Zeppelins, Boats, or similar. These cost nothing to use, and operate on a fairly rapid schedule. They are also a relatively safe way to travel, for those with the correct faction alignment, as they usually have guards stationed at the stops. Anyone can use any of these travel options, but the guards will try to kill you if you are not liked by their faction, of course.
The Horde has goblin-operated zeppelin services, wich can be easily found at a Zeppelin tower.
The Alliance has boat routes for passengers which can be easily found at the Boat post.
The

Neutral Steamwheedle Cartel goblins run a neutral boat service between Booty Bay (Cape of Stranglethorn,Eastern Kingdoms) and Ratchet (Northern Barrens,Kalimdor). Both Horde and Alliance can use this boat, and Ratchet in the Northern Barrens is relatively safe to Alliance, although the other towns and outpost in the zone are Horde.
If you use this boat as Alliance and it's your first time entering Kalimdor, you can run south along the coast and cross the river into Southern Barrens where you will directly stumble onto the Northwatch Hold, or you can travel west until you reach an oasis near the Wailing Caverns, just next to the lava ridge, and then travel north onto the small pass into Ashenvale shown on the map. from where you can go northeast or west into an Alliance flight point. use an ashenvale map for better reference. Still, most are advised to use a wyvern if the Ratchet flight master has any available.
The Tuskarr

run neutral boat services between:
Pandaria

Transport to Pandaria doesn't go by a boat. you can find a portal to Honeydew Village

and Paw'don Village

in the Jade forest at the pandaren camps in Stormwind city and Orgrimmar (look for the big balloon).
In return, these two villages also have a portal back to Stormwind and Orgrimmar. alternatively you can use a heartstone to get to pandaria, or ask a mage for a portal. at your faction's operating base you can also buy Portal fuel back to Stormwind or Orgrimmar, wich you can activate at the same place where you buy it.
Last but not least, growing a portal shard on Sunsong Ranch in Valley of the Four Winds can give you a portal back to one of your faction's capital cities, but it must be activated on the very same farm.
Personal travel
Certain classes, such as mages, druids, hunters, and shaman, have different means of personal travel which help them get places faster. The Engineering profession also allows use of four trinkets that allow personal teleportation to either Everlook and Area 52 if you took Goblin Engineering specialization or Gadgetzan and Toshley's Station if you took up gnomish specialization.
At level 20, all classes can purchase mounts. These aren't overly expensive, costing only 4

for Apprentice training and 1

for the mount, and can be reduced in price by gaining higher reputation with your faction (up to 20% discount), and provide a faster means of transportation than traveling everywhere by foot. Paladins and Warlocks get mounts and apprentice riding training automatically at level 20. Worgen receive the training and their [Running Wild] ability at level 20.
At level 40, all classes can upgrade to epic mounts. These mounts are more expensive (50

for Journeyman training and 10

for the mount), but provide a greater speed increase than does a normal mount—which becomes quite useful when traversing the larger zones intended for level 40+ characters. Again, Paladins and Warlocks get special mounts. Prior to patch 3.0.3, these mounts all required completion of long and costly questlines. Now, the quest is a Feat of Strength and Paladins and Warlocks may now train their epic mounts at 40, provided they have already picked up the Journeyman Riding skill. For

Death knights, a Deathcharger is automatically received for free after completing [55] Into the Realm of Shadows. You may buy the mounts of another allied race (IE a Dwarf purchasing human horse mounts) if you are of exalted rank with that race's home city. You cannot buy mounts of the opposite faction, though some generically available mounts do resemble racial mounts, such as the Swift Razzashi Raptor, which resembles Darkspear Raptors.
Also at level 40, you may purchase black-colored PVP variants of racial mounts for 2000+Honor Points, which you receive by competing in PvP combat. You must still pay for the riding training. You may purchase mounts of the same faction but different race, even if you are not exalted (i.e, a Draenei can purchase a Black War Horse even if he or she is not exalted with Stormwind.) You can never gain Black PVP variants of the other faction's mounts.
At level 60, all classes can purchase flying mounts. These are able to be used in all areas after additional training, with the exception of the draenei and blood elf starting zones. This requires Expert Riding (250

training/50

mount) for initial use only in Outland

. Further specialized training (and leveling) opens up more areas:
Basic flying mounts are the same speed on the ground as epic (level 40) mounts, and fly at 150% speed. Epic flying mounts are also available; they're much more expensive (5000-4000 if exalted

for Artisan training, 100

for the mount), and require level 70, but also much faster (280% speed in the air).

Master riding is now available at level 80, giving 310% flight speed at the cost of an additional 5000

reduced by Reputation.
There are no special mounts for Paladins and Warlocks in Outland. Druids instantly get Flight Form and Expert Riding upon reaching level 58. At level 70, Swift Flight Form is available at the flying trainer once you purchase Artisan riding for 5000 gold.
The Deeprun Tram
The Deeprun Tram provides free transportation between Stormwind and Ironforge. The entrances to the tram are found in the Dwarven District in Stormwind and in Tinker Town in Ironforge. Two separate trams run the length of the two minute route.
It is also the only safe way to travel between Stormwind and Ironforge for low-level characters the first time as you cannot use flightpaths until they are discovered. The areas between the two cities are for much higher-level characters.
Portals
There are a few cities that provide free portal travel between major cities.
Special Burning Crusade portals
In the eastern room off of the courtyard in Undercity, there is a portal (technically an Orb of Translocation) that leads to

Silvermoon City, which leads players to the Inner Sanctum. This is the only portal that can be used to go both ways (Undercity → Silvermoon City, Silvermoon City → Undercity). As the portal is Horde-aligned, it cannot be used by Alliance characters because it would trivialize raiding of Silvermoon City.
Despite the ferry between Rut'theran Village (Teldrassil) and

Valaar's Berth (Azuremyst Isle), there is also a portal between

The Exodar and Darnassus. As with the Undercity/Silvermoon City portal, this cannot be used by the Horde.
Blasted Lands and Hellfire Peninsula portals
Every capital city has a portal heading to the Blasted Lands (the Dark Portal) and

Hellfire Peninsula (the other side of the Dark Portal), typically in the section of the city where the mage trainers are located. This is useful for level 58 characters ready to head to Outland. In the faction camps just beyond the portal (so Hellfire Peninsula, not behind the hills in Blasted Lands) there are portals to Stormwind and Orgrimmar. You can use this combo to save a hearthstone's cooldown. This is a quick way to get from other Alliance capitals to Stormwind or other Horde capitals to Orgrimmar.
Expansion hub portals
Typically the expansion hubs of each expansion will have portals leading to all the major cities. These are usually removed when the next expansion is released, but not always.
As of Wrath of the Lich King, the city of Dalaran (other portals were removed with the release of Cataclysm):
See also
External links
Items

Newbie Guide/Instanced Dungeons
Community content is available under
CC-BY-SA
unless otherwise noted.