Source information needed!

This article is lacking citations and/or sources.
Please see WoWWiki:Citation for information on how to add citations.
This article concerns content exclusive to Legion.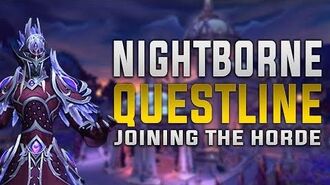 The Nightborne (also known as "shal'dorei")[1] are denizens of Suramar,[2] ancient night elves who protected themselves from the Sundering by erecting an impenetrable magical barrier after heroically fighting and defeating a major legion invasion through their city by using the Pillars of Creation to seal a demonic portal. They are extremely powerful magic users, able to conjure arcane weapons and armor at will. Their eyes glow blue-white as an indication of this power, rather than the gold or green of other elves.
The source of their power is the Nightwell[2] within Suramar Palace. Over the millennia that passed, the energies of the Nightwell evolved them into Nightborne night elves. If a Nightborne is cast out of the city, they no longer have access to the Nightwell and begin to lose their strength and power. Their bodies begin to change and wither. The longer they spend without the Nightwell's substance, the worse their condition becomes taking on the starved look referred to as Nightfallen,[2] a condition that can be reversed. Eventually those restricted from the arcane source become so decayed, they turn into what the Nightborne refer to as Withered Nightfallen. Once Withered, the process is irreversible as of current.
With the corruption of the Nightwell and the plight of the people, the leader of the Nightborne, Grand Magistrix Elisande has felt there is no longer a choice: the protective dome that had protected them for so long has been lowered, and she surrendered to Gul'dan. Suramar City is now being occupied by the Legion forces, and while a few have taken a shine to the lure and power of the Legion, many nightborne hate or dislike these invaders they fought 10,000 years ago but are too afraid to rebel, as doing so carries the sentence of expulsion cutting them off from the Nightwell and condemning them to the unavoidable Withered state, a fate worse than death.
A faction of nightborne referred to as the Nightfallen, led by First Arcanist Thalyssra from within the ruins of Shal'Aran outside the city, and Ly'leth Lunastre from within Suramar City form a resistance to retake the City, drive out the Legion invaders and inspire their people to remember their noble heritage and rise up overcoming their fears and Legion occupiers.
Media
Images
Videos
References
See also
Note: This is a generic section stub. You can

help expand it

by clicking

 Edit to the right of the section title.
External links
Note: This is a generic section stub. You can

help expand it

by clicking

 Edit to the right of the section title.
Roleplaying

BlizzardWatch
Role Play: Roleplaying Nightfallen or Nightborne
By Anne Stickney October 8, 2016 2:00pm