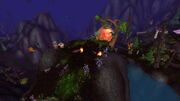 Nordune Ridge
[27.3, 55.7]
is a steep hill that sits across from the Sanctuary of Malorne and borders the southern end of Ashen Lake in Mount Hyjal. This is where the ancient, Nordu, died from wounds sustained while battling Ragnaros's minions. His sacrifice led directly to the blooming of The Regrowth and the hill was later named after him during the Firelands Invasion.
During the Invasion, a flamegate is set here and this is the assault point for Malfurion Stormrage and his druidic allies as they take the fight to Ragnaros and the Molten Front. After a short series of quests players may step through.
Inhabitants
Initial (when unnamed, prior to The Regrowth)
Invasion start
Final
There are no mobs or NPCs present.
Patch changes
External links