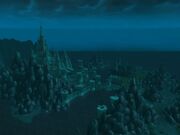 Onslaught Harbor is the base of operations for the Scarlet Onslaught in Icecrown within Northrend. It is located just off the western coast of the large glacier. The harbor itself is built on a small island. A bridge connects the harbor to a larger island, upon which sits the Crimson Cathedral, in which the recently resurrected Archbishop Landgren resides, surrounded by Onslaught Raven Bishops.
Red lightning can be seen from time to time on this island, and contributes to the Scarlet Onslaught's hatred effect towards the Scourge.
Behind the cathedral and harbor is a heavily guarded cave known as the Hidden Hollow, in which Barean Westwind, leader of the Onslaught resides.