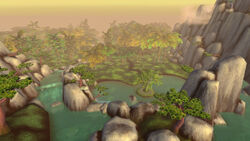 Pei-Wu Forest (aka "The Forbidden Forest") is located in the southwestern region of the Wandering Isle. It encompasses the Forlorn Hut, the Pool of the Paw, and the Skyfire Crash-Site.
Wei Palerage is the only pandaren inhabitant, a hermit even by his people's standards. The forest is not a place others go willingly, as it is dark and foreboding, filled with dangerous wild animals. The danger increases after the Skyfire crashes into the Isle, bringing with it a host of new enemies and potential allies.
Inhabitants
For individual subzones, see their associated pages.
Patch changes