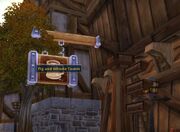 The Pig and Whistle Tavern
[76.0, 53.4]
is a tavern in Stormwind. Located in the district known as Old Town, the Pig and Whistle is home away from home for the weary Alliance traveler. Kendor Kabonka can be found here, as well as soldiers recalling the First and Second Wars.
It is also the secret headquarters for Stormwind's warriors' guild.[1] (LoC 54)
Inhabitants
  

Bartleby

 <Drunk>
  

Reese Langston

 <Tavernkeeper>
  

Elly Langston

 <Barmaid>
  

Kendor Kabonka

 <Master of Cooking Recipes>
  

Stephen Ryback

 <Cooking Trainer>
  

Erika Tate

 <Cooking Supplies>
Inspiration
The "Pig'n Whistle" is the name of a California bar founded in 1929 which was featured in Roman Polanski's 1974 film Chinatown. The "Pig n Whistle" is also the name of a bar opened in 1969 in New York City, famous for its friendly people and atmosphere. Lastly, "Pig and Whistle" was the name of a tavern in the Dragonlance series of novels, located in Port Balifor.
Patch changes