This article concerns content exclusive to Warlords of Draenor.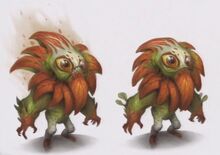 A number of Draenor's indigenous species blur the line between plant and animal, and the so-called podlings are the most vicious and chaotic of their ilk. Small and seemingly harmless, they work together to capture their prey, attacking only when they have numerical superiority. Explorers who pay attention to the color of podlings' flowering buds can ascertain whether they favor poison, ensnaring, or physical attacks to incapacitate their victims. Once podlings have overwhelmed their quarry, they will drag the unlucky creature down into the weeds to fertilize a new generation. The clear lesson for adventurers: looks can be deceiving!
Community content is available under
CC-BY-SA
unless otherwise noted.