As of

Cataclysm, the Portable Hole is the largest general purpose bag in the game without a level requirement and available from a vendor (the 24-slot [Tattered Hexcloth Bag] is a quest reward, the 26-slot [Illusionary Bag] is made by tailors), as well as the most expensive one.
Source
This item is sold for 3000

by Haris Pilton in World's End Tavern in Shattrath City.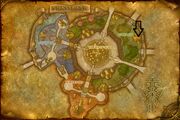 Notes
Portable holes are often used in slapstick cartoons to circumvent the laws of physics.
This may be a reference to a Portable hole (Dungeons & Dragons), which is a round piece of cloth which, when placed against a surface, opens up an extradimensional pocket.
Patch changes
External links