(Crucible notice smaller heading)

Line 269:
Line 269:
 

[[File:BlizzCon2019-PASSES_ON_SALE-box.jpg|center|270px|link=BlizzCon 2019]]

 

[[File:BlizzCon2019-PASSES_ON_SALE-box.jpg|center|270px|link=BlizzCon 2019]]

 

----

 

----

−

<h3 class="mpcontentbox-header" style="margin-bottom:1em">{{b-inline}} Have you been tempered on the [[Crucible of Storms]]?</h3>

+

< class="mpcontentbox-header" style="margin-bottom:1em">{{b-inline}} Have you been tempered on the [[Crucible of Storms]]?</>

 

</div> <!--

 

</div> <!--

 

[[User_blog:Pinkachu/BlizzCon_2018|BlizzCon 2018 Coverage]]

 

[[User_blog:Pinkachu/BlizzCon_2018|BlizzCon 2018 Coverage]]
---
Revision as of 00:48, 26 April 2019
Join the
WoWWiki friends
Facebook group!
Welcome to
the free Warcraft universe source that anyone can edit
•

WoWWiki plans to reunite with Wowpedia.

Please join the

discussion

to influence how our communities can work together.

•
Follow WoWWiki
on Twitter!

 Patch 8.1.5 is live! Kul Tiran or Zandalari?
News from
Currently has a bug where worldofwarcraft.com news links start with http://us.battle.net///, but should be just http://us.battle.net/wow/.
Warcraft newse
WoWWiki news
Help, policies and guidelines
WoWWiki is a wiki dedicated to cataloging Blizzard Entertainment's Warcraft universe, including World of Warcraft, covering the entire Warcraft series of games, RPG reference books, strategy guides, novels and other sources.
Want to help out? Get an account, and start editing!
Got questions? Check out the help pages or visit our forums! We love having new editors around!
For more info about WoWWiki, visit WoWWiki:About and the community portal.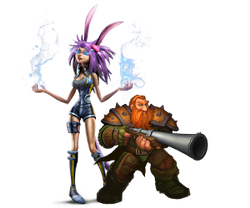 Community content is available under
CC-BY-SA
unless otherwise noted.