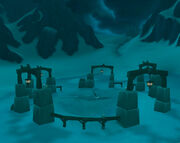 Quel'Delar's Rest is located in Icecrown and is north of Silent Vigil. It is ringed by small lantern stands, and a sword, Quel'Delar is stuck in the ice where there seems to be a dragon's skull underneath. It can be used as a landmark to help find the Argent Tournament Grounds since the road is directly north of the site. During 3.3.0 The San'layn matriach Blood-Queen Lana'thel appears at the site and begins a long conversation of the sword's history and defiles it so its magical powers may never be used against her or the Scourge.
Quel'Delar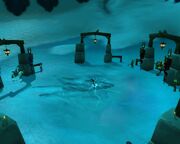 Alliance

Caladis Brightspear says: I knew this was a dragonforged blade when I first laid eyes on it.
Caladis Brightspear says: But can it be? Is this really --

or Horde

Myralion Sunblaze says: The style of this blade and its markings hinted that it might be a dragonforged sword. At last, we will have our answer.
Myralion Sunblaze says: After all these years, can it really be --

Then

Lana'thel appears out of nowhere walking up to Quel'Delar from the southwest. The four sentinels and war mages rush to the sword.
Silver Covenant Sentinel says: You are not welcome here, minion of the Lich King!
Lana'thel says: Quel'Delar.
Lana'thel freezes the war mages and sentinels surrounding the sword.
Lana'thel says: Quiet, fools. If I had wished to kill you, you'd already be dead.
While Lana'thel speaks, images of what she talks about appear just north of the blade.
Lana'thel says: As

[

Quel'Serrar

]

was forged by the dragons and given to the kaldorei, its twin, Quel'Delar was given to my people.
Lana'thel says: The king bestowed the blade upon my friend,

Thalorien Dawnseeker

.
Lana'thel says: Lana'thel says: But even Thalorien's skill and Quel'Delar's magic could not save Silvermoon from the might of the Scourge.
Lana'thel says: Thalorien fell before the gates of the Sunwell, buying time for others to escape.
Lana'thel walks north and kneels down to inspect the image of Thalorien.
Lana'thel says: After the battle, I recovered the sword from the field. I bore it to Northrend in the service of my prince, seeking to avenge our people's defeat.
Lana'thel says: Arthas shattered our forces and took the most powerful of us into his service as the San'layn.
Lana'thel says: My memories of Thalorien went cold and so did his blade.
Lana'thel says: It was I who brought Quel'Delar here, to return it to its makers. In breaking the weapon, so did I break its power.
Lana'thel says: Quel'Delar will never serve another!
The freeze fades and Lana'thel appears to cast some spell on Quel'Delar, disappearing once again.

Then, Alliance

Caladis Brightspear says: I vow that the Silver Covenant will see Quel'Delar restored.

or Horde

Myralion Sunblaze says: It falls to us to see Quel'Delar restored for the Sunreavers.
Patch changes

Patch 3.1.0 (14-Apr-2009): Area added.


Patch 3.3.0 (08-Dec-2009): Caladis Brightspear, Myralion Sunblaze, Drugan Deepdraught have been added to the area and Blood-Queen Lana'thel makes an appearance.