| | |
| --- | --- |
| | The subject of this article or section is part of Hallow's End, a seasonal event that lasts two weeks. Once the event has run its course, this will no longer be available until next year, but there are no guarantees. |
For a full list of Candy Bucket locations, see Candy Bucket.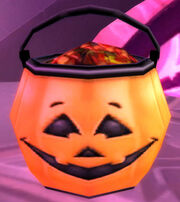 During the Hallow's End event, most inns have a Candy Bucket which both starts and ends this quest. Clicking a candy bucket offers the option to take a handful of treats; taking the handful of treats completes and gives you credit for the quest. There is no separate turn-in. Each candy bucket has a separate instance of this quest. You can loot each one once during the event.
Candy Buckets can be found in most inns that allow you to set your hearthstone there. Buildings that look like inns but have no innkeeper, such as in Moonglade, do not have Candy Buckets.
Completion
Candy buckets like this are located in inns throughout the realms. Go ahead... take some!
Rewards
You will receive:
Achievements
The

 Trick or Treat! achievement requires you to take a [Handful of Treats] from the Candy Bucket in any inn.
There are several tracking achievements to follow which Candy Buckets have been looted from the friendly or neutral inns on a continent:
The meta-achievement

 Tricks and Treats of Azeroth requires the character to complete the first three achievements above.
Notes
Candy Bucket "quests" are tracked individually, to keep a character from double-dipping.
Prior issues
2009
There was an issue regarding looting candy buckets in Northrend in 2009:

Hallow's End Achievement Issue | 2009-10-19 02:12 |
Bornakk
We are currently experiencing an issue with the Hallow's End candy buckets that is affecting the Trick or Treat Achievements for this event. Certain candy buckets in Northrend, once looted, are preventing characters from looting some of the Candy Buckets required for the Trick or Treats of Eastern Kingdoms, Kalimdor and Outlands. The current way to work around this is to get the candy buckets from Eastern Kingdoms, Kalimdor, and Outland before doing any in Northrend.
Note, doing the Achievements first will prevent some of the Northrend Candy Buckets from being intractable.
We are actively working on a resolution for this and will provide more information when it is available.
References
Patch changes
External links

Wowhead

Thottbot

Allakhazam