The subject of this article was either removed from World of Warcraft or is no longer available due to the devastating Cataclysm.

The in-game information in this article is kept purely for historical purposes and may not need to remain under any other categories.
This quest ends with Greatmother Geyah in Garadar, Nagrand, and completes the Hero of the Mag'har quest chain.
Notes
Assuming that Thrall has not already made an appearance, following the turnin, a lengthy cutscene will begin.
Warning: If Thrall is already there and you turn in the quest, the cutscene will not trigger. If you want to see the movie, you'd better turn it in when Thrall is not there.
Objective
Return to Greatmother Geyah at Garadar in Nagrand.
Quest Text
I must set things in order before I leave. Return to the Greatmother and tell her that her grandson comes.
Rewards
Transcript from final cutscene
When you talk to Greatmother Geyah, you will see many of Thrall's Kor'kron elite guards aligned in two rows of wolfriders at the entrance of Garadar. Thrall will appear by Garrosh, and will start walking uphill toward the Main Hall. There Thrall kneels down in front of Greatmother Geyah, and sits. Thrall will stay there for a few hours talking to her. The Horde gets buffed. You will see thunderbolts spreading and jumping from player to player throughout Nagrand.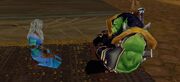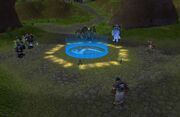 Notes
After Thrall reveals the truth of Grom's death to Garrosh, Garrosh yells, granting the Hellscream's Warsong buff to all Horde players in Nagrand.
After the cutscene, Thrall will sit down with the Greatmother. Some time after, Greatmother Geyah will despawn. As she was already dying of old age, this may mean that she finally passed away in the presence of her grandson. She will respawn immediately after.
Quest progression
Hero of the Mag'har quest chain
External links