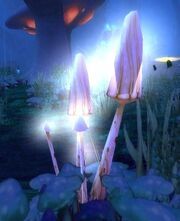 Ragveil is a Herb that can be gathered by Herbalists.
Source
Ragveil can be found in Zangarmarsh, Coilfang, and from harvesting the corpses of Bog giants. Requires 325 Herbalism to gather.
Ragveil as an Ingredient
Ragveil is used in the following recipes:
Alchemy
Notes
Gathering a Ragveil will occasionally yield Mote of Life in addition to the herb.
Any herb (including Ragveil) gathered in Zangarmarsh has a chance of yielding Unidentified Plant Parts as well.
External links

Ragveil Farming - OmgNab.com