Source information needed!

This article is lacking citations and/or sources.
Please see WoWWiki:Citation for information on how to add citations.
Rated battlegrounds are arena-like 10 vs. 10 matches on regular battleground maps introduced with the

Cataclysm expansion. As of Patch 4.1 (although this may have only been a server-side change), groups of the same faction can join to battle each other.[1]
Battlegrounds with a rated mode
New features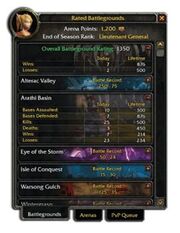 Conquest points will be awarded as you win games, not every Tuesday, or Wednesday if playing on European servers. Limit to maximum amount of points each character are able to gain per week. This limit is based on your rating; the higher your rating, the more points. The highest rating ever earned is used to calculate maximum amount of points you are able to earn.
When you win Battlegrounds, you will gain rating and conquest points.
New featured weekly battleground to help concentrate the queues so as many people as possible are in one queue.
New UI showing PvP stats and the possibility to queue from anywhere with the new 'rated' option.
New PvP rewards
Honor titles
Epic ground mounts
Arena points
Guild achievements/levels
Patch 4.2
Starting with Patch 4.2, every time a character wins 75, 150, or 300 Rated battle grounds, a special epic, ground mount will be mailed to the character. This mount is bound to the Battle.net account so it can be mailed to alts before it is used and added to the characters list of mount summoning spells.
Notes
Initially 15 vs. 15 matches were available along with 10 vs. 10, but they eliminated in early February 2011.[4]
References
Patch changes
External links
Official
Group finders
Guides
β News
News