The subject of this article was removed from World of Warcraft in patch 3.1.0.

This includes items and quests that can no longer be obtained.
The in-game information in this article is kept purely for historical purposes and should probably not be under any other categories.

Reins of the Black Proto-Drake

Item Level

70

Requires level 70
Requires Riding (300)
Use: Teaches you how to summon this mount. Can only be summoned in Outland or Northrend. This is a very fast mount.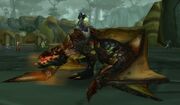 Source
Complete the Dungeons & Raids achievement

 Glory of the Raider (25 player). This mount is a 310% speed mount.
Patches and hotfixes
See also
References
External links