Reins of the Blue Drake

Item Level

70

Requires level 70
Requires Riding (300)
Use: Teaches you how to summon this mount. Can only be summoned in Outland or Northrend. This is a very fast mount.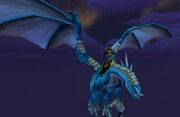 Source
This item has a low chance (estimated being from 1% to 2%) to be obtained from Cache of the Ley-Guardian in the Cache of Eregos after defeating Ley-Guardian Eregos inside The Oculus, when chosen as a random Heroic dungeon through the Dungeon Finder. As of patch 4.1 and the dungeon finder Call to Arms update, this can also be obtained from within the Satchel of Exotic Mysteries.
Notes
Patches and hotfixes
Patch 4.0.3

(15-Nov-2010): Reins of the Blue Drake once again drops from the 10-man Malygos encounter.

 Hotfix (2010-01-05): "

Once Ley-Guardian Eregos is defeated, one loot bag per character will be provided in his chest in addition to the current rewards. Each loot bag will offer players... a chance of being rewarded the Reins of the Blue Drake. Keep in mind, however, that these extra loot bags will only be awarded to each party member if Oculus is selected by the Dungeon Finder when players choose the Random Heroic option.

"

/

Patch 3.0.2

(14-Oct-2008): Added.

External links