Reins of the Green Proto-Drake

Item Level

70

Mount"Mount" is not in the list (Back, Chest, Feet, Finger, Hands, Head, Held in off-hand, Legs, Main Hand, Neck, ...) of allowed values for the "Item slot" property.
Requires level 70
Requires Riding (300)
Use: Teaches you how to summon this mount. Can only be summoned in Outland or Northrend. This is a very fast mount.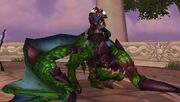 Source
This item is hatched from Mysterious Egg. These are sold by Geen in Sholazar Basin for 3

, you will need to be at Revered reputation with The Oracles. You may only carry one Mysterious Egg at a time, each of which takes three days to hatch. It has an extremely low drop chance, although this chance was increased in patch 4.0.3[1].
Notes
This item is one of three epic drop proto-dragon mounts that can be obtained in Wrath of the Lich King. Other proto-dragon mounts are obtainable through the achievement system.
External links