Reins of the Winterspring Frostsaber

Item Level

40

Mount"Mount" is not in the list (Back, Chest, Feet, Finger, Hands, Head, Held in off-hand, Legs, Main Hand, Neck, ...) of allowed values for the "Item slot" property.
Races: Human, Dwarf, Night Elf, Gnome, Draenei
Requires level 40
Requires Riding (75)
Use: Teaches you how to summon this mount. This is a very fast mount.
Vendor 100
For the achievement, see Winterspring Frostsaber (achievement).
Reins of the Winterspring Frostsaber summons a unique frostsaber mount that is not wearing any armor. It is the only (Alliance) epic mount (100% speed increase) that can be used with the novice riding skill; however, players must still be level 40 to use the mount.
Source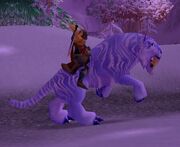 This mount is sold by Rivern Frostwind on Frostsaber Rock in Winterspring for 100

. You must be exalted with the Wintersaber Trainers to purchase this mount.
Notes
No longer requires exalted reputation with Darnassus to ride.
See also
External links