The subject of this article was either removed from World of Warcraft or is no longer available due to the devastating Cataclysm.

The in-game information in this article is kept purely for historical purposes and may not need to remain under any other categories.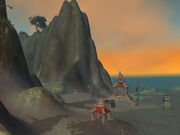 Rethress Sanctum was a ruined shrine located in the Ruined Reaches, southwest of Ravencrest Monument in Azshara. It was uninhabited, visited only by stray murlocs and makrura. It has since been destroyed by the events of the Cataclysm.