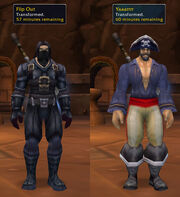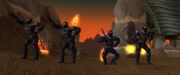 Source
This item is created with Cooking (85); taught by [Recipe: Savory Deviate Delight].
Notes
Eating a Savory Deviate Delight randomly has one of these two effects:
Flip Out - a buff that changes the character model into a ninja for 60 minutes. The ninja is a human dressed entirely in black with a black bandana across its face. (This transformation looks very similar to a human dressed in the Defias Leather armor set, with a black bandana rather than a red bandana)
Yaaarrrr - this buff transforms the character into a human pirate for 60 minutes.
In earlier patches, Savory Deviate Delight also bestowed a number of other possible effects, including "fake death," a short-term Fear effect, and a rapid-cast buff. Some players misused the Savory Deviate Delight's Fear-like effect to glitch their way past closed gates such as those in Blackwing Lair.
Druids, Shamans, and Warlocks lose the effect when they change forms.
For non-humans, certain emotes change while Flip Out or Yaaarrrr are in effect. These include /cry, /laugh, /cheer, /chicken, /yawn, /train, /silly, /dance and /sigh which are all replaced by the human versions.
Patch changes
Patch 3.1.0

(14-Apr-2009):

[

Mild Spices

]

are no longer a required reagent. Yaaarrrr (the pirate costume buff) now has a detailed tooltip.


Patch 2.3.0

(13-Nov-2007): Priests who switch to Shadowform no longer remove the transformation effect.


Patch 1.7.0

(13-Sep-2005): All effects other than pirate and ninja transformations were removed.

External links