The subject of this article was either removed from World of Warcraft or is no longer available due to the devastating Cataclysm.

The in-game information in this article is kept purely for historical purposes and may not need to remain under any other categories.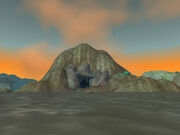 Scalebeard's Cave was located on a tiny island
[54, 49]
in the western part of the Bay of Storms in Azshara. It was the home of the rare turtle Scalebeard, but he tended not to be present, usually preferring to spend his time hunting in the Great Sea.
After the Cataclysm, Scalebeard's Cave was destroyed, though Scalebeard can still be found wandering the shores.