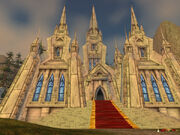 The Scarlet Basilica is a large basilica located inside Tyr's Hand in the Eastern Plaguelands. It is the high seat of religious power for the Scarlet Crusade and has close ties to Tyr's Hand Abbey nearby as well as the Scarlet Monastery much further west in Tirisfal Glades. It is the location of Crusader Lord Valdelmar.
Scarlet Basilica is built very much like Cathedral of Light in Stormwind City.
The Crimson Courier and her 4 bodyguards will eventually walk into this building if they are not killed. However, they will stop once they reach the altar and disappear, respawning back at the front of Stratholme.