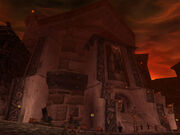 The Scarlet Bastion is a fortified cathedral located in the western districts of the ruined city of Stratholme. The Scarlet Bastion serves as a small outpost in the undead-infested city of Stratholme.[1] Grand Crusader Dathrohan struggles to hold the Scarlet Crusade stronghold.[1] He coordinates the fight for control of the ravaged city. It is manned by members of the Crimson Legion, the elite guard of the Crusade. It is the Scarlet Crusade's holiest site. The Scarlet Bastion is where the Scarlet Crusade first formed, and where the founding members took their oaths.[1]
The bastion is located in Crusaders' Square, and contains the Hall of Lights, the Hoard, and the Crimson Throne.
As of patch 3.2, the requirement for the The Scarlet Key to open the door has been removed.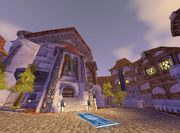 References