| | |
| --- | --- |
| | It is requested that a screenshot or screenshots be included in this article to improve its quality. |
The Scarlet Halls is a dungeon wing (level 28+ and level 90 Heroic mode) of the re-introduced Scarlet Monastery in the

Mists of Pandaria expansion. It replaces what were previously two wings, the "Armory" and the "Library". The Scarlet Monastery is a complex of two wings (previously four), each an instanced dungeon, for both Horde and Alliance characters.
History
The Scarlet Halls is part of the Scarlet Monastery, one of four strongholds in the world that belonged to the fanatical Scarlet Crusade, the others being the Scarlet Bastion within the ruins of Stratholme, the town of Hearthglen, and the town of Tyr's Hand. Located in the northeast corner of the blighted Tirisfal Glades, the Scarlet Monastery was once a cathedral to the Light, now taken over by zealots.
From World Dungeons on the old WoW site:
The Monastery was once a proud bastion of Lordaeron's priesthood - a center for learning and enlightenment. With the rise of the undead Scourge during the Third War, the peaceful Monastery was converted into a stronghold of the fanatical Scarlet Crusade. The Crusaders are intolerant of all non-human races, regardless of alliance or affiliation. They believe that any and all outsiders are potential carriers of the undead plague - and must be destroyed. Reports indicate that adventurers who enter the monastery are forced to contend with Scarlet Commander Mograine - who commands a large garrison of fanatically devoted warriors. However, the monastery's true master is High Inquisitor Whitemane - a fearsome priestess who possesses the ability to resurrect fallen warriors to do battle in her name.
Over the years of constant assault by adventurers, High Inquisitor Whitemane was killed, however...
The Crusade's fiercest warriors, those who have held their ground and fought to defend the monastery throughout these dark times, are rapidly preparing an army within the Scarlet Halls. These soldiers are bound by their hatred of the unliving, and they are willing to sacrifice everything for their order's righteous cause.[1]
Walkthrough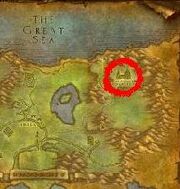 Training Grounds (?+)
Huntsman's Cloister (?+)
Footman's Armory (?+)
Hall of Champions (?+)
Gallery of Treasures (?+)
Athenaeum (?+)
Gear requirements
Maps
Dungeon denizens
NPCs
Mobs
Bosses
 [31-93+] 

Armsmaster Harlan

 <The Ravager>
 [31-93+] 

Flameweaver Koegler
Loot
Normal mode
Zone drop
[

Pyretic Legguards

]

(Legs, Mail Armor)

[

Scorched Scarlet Key

]

(Neck, Amulet)

[

Temperature-Sensing Necklace

]

(Neck, Amulet)
[

Houndmaster's Compound Crossbow

]

(Ranged, Crossbow)

[

Beastbinder Ring

]

(Finger, Ring)

[

Hound Trainer's Gloves

]

(Hands, Leather Armor)

[

Commanding Bracers

]

(Wrist, Mail Armor)

[

Canine Commander's Breastplate

]

(Chest, Mail Armor)
Drops from  

Armsmaster Harlan
[

Tabard of the Scarlet Crusade

]

(Tabard)

[

Scarlet Sandals

]

(Feet, Cloth Armor)

[

Lightblade Bracer

]

(Wrist, Leather Armor)

[

Harlan's Shoulders

]

(Shoulder, Mail Armor)

[

The Gleaming Ravager

]

(Two-Hand, Two-Handed Axe)

[

Armsmaster's Sealed Locket

]

(Neck, Amulet)
Drops from  

Flameweaver Koegler
[

Koegler's Ritual Knife

]

(One-Hand, Dagger)

[

Bindburner Belt

]

(Waist, Mail Armor)

[

Mograine's Immaculate Might

]

(Two-Hand, Two-Handed Mace)

[

Robes of Koegler

]

(Chest, Cloth Armor)

[

Melted Hypnotic Blade

]

(One-Hand, Dagger)

[

Vellum-Ripper Gloves

]

(Hands, Leather Armor)

[

Bradbury's Entropic Legguards

]

(Legs, Mail Armor)
Heroic mode
External links
Level 28-31, 90
Resources
Achievements
Quests
Media
Images
Videos
Dungeon and Lore Guide for Scarlet Halls (Heroic)
Scarlet Halls video preview
By Gnomeschool


By HeelvsBabyface

Dungeons & Raids: Scarlet Halls
By nialinius

External links
Guides
News