Were you looking for the old instance of the same name called Scarlet Monastery?

This article concerns content exclusive to Mists of Pandaria.
Scarlet Monastery (also known as "Scarlet Cathedral") is a revamped dungeon in the new expansion,

Mists of Pandaria. It is basically just redone versions of the Graveyard and Cathedral areas in one wing. The old Armory and Library areas have been combined into another wing called Scarlet Halls.
The Scarlet Cathedral is the dungeon wing (level 21+ and level 90) of the re-introduced Scarlet Monastery in the

Mists of Pandaria expansion. It replaces what were previously two wings, the "Graveyard" and the "Cathedral."
New in Mists of Pandaria

This section concerns content exclusive to Mists of Pandaria.
During Blizzcon 2011, it was announced that level 90, Heroic version of this dungeon would be available for the upcoming expansion

Mists of Pandaria.[citation needed] Also, the dungeon will be revamped from 4 wings to 2 wings with several different bosses.[1]
Story
The Scarlet Monastery is one of four strongholds in the world belonging to the fanatical Scarlet Crusade, the others being the Scarlet Bastion within the ruins of Stratholme, the town of Hearthglen, and the town of Tyr's Hand. Located in the northeast corner of the blighted Tirisfal Glades, the Scarlet Monastery was once a cathedral to the Light, now taken over by zealots. The Scarlet Monastery is a complex of four wings, each an instanced dungeon, for both Horde and Alliance characters. The mobs respawn at the same rate in each of them, except for the Cathedral.
All of the instanced wings of the Scarlet Monastery are stored on the same map. That means, if you could fly, you can enter the Cathedral, fly, and end up in the Graveyard wing.
History
From World Dungeons on the old WoW site:
The Monastery was once a proud bastion of Lordaeron's priesthood - a center for learning and enlightenment. With the rise of the undead Scourge during the Third War, the peaceful Monastery was converted into a stronghold of the fanatical Scarlet Crusade. The Crusaders are intolerant of all non-human races, regardless of alliance or affiliation. They believe that any and all outsiders are potential carriers of the undead plague - and must be destroyed. Reports indicate that adventurers who enter the monastery are forced to contend with Scarlet Commander Mograine - who commands a large garrison of fanatically devoted warriors. However, the monastery's true master is High Inquisitor Whitemane - a fearsome priestess who possesses the ability to resurrect fallen warriors to do battle in her name.
Loot
Mobs
Bosses
Maps
Achievements
Quest guide
Quests
Faction
Quest name
Quest giver
Zone location
Significant areas
Horde
 [90 Daily Heroic] 

A Worthy Challenge: Durand

 

Challenger Wuli

Shrine of Two Moons, Vale of Eternal Blossoms, Pandaria
Cathedral
Alliance
 [90 Daily Heroic] 

A Worthy Challenge: Durand

 

Challenger Soong

Shrine of Seven Stars, Vale of Eternal Blossoms, Pandaria
Cathedral
Areas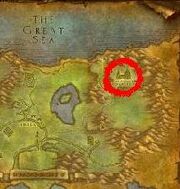 Graveyard (30+)
Cathedral (32+)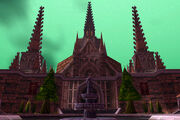 Dungeon denizens
Main article: Scarlet Monastery mobs
Loot
Loot

| Boss | Instance | Weapons and Shields | Cloth | Leather | Mail | Plate | Back | Other |
| --- | --- | --- | --- | --- | --- | --- | --- | --- |
Resources
Media
Videos
Patch changes
References
See also
External links
Guides
Lore
News