Join forces with your fellow heroes and embark on epic Scenarios that will challenge you like never before![1]
Scenarios are short, instanced adventures for three players that directly follow the stories and events in the open world. In a scenario you'll be presented with a number of goals you need to achieve in order to progress. So instead of "clear trash, kill boss, rinse, repeat", you will be given objectives you have to complete to move the scenario's story forward. Yes, that's right – scenarios are heavily story-driven, much more so than dungeons.[2]
Introduced with the

Mists of Pandaria expansion, Scenarios are short instances consisting of a series of tasks that can be completed by groups of players smaller than 5 for rewards better than individual quests.[3] Unlike 5-man dungeons, many scenarios will take place outside and resemble phasing. As with dungeons, they will be tied into a queuing system, but there will be no defined roles, so queues should be short.
History
As of the March 2012 press event developers said they have about 5 scenarios "close to completion" and will add more before launch.[4]
In late Nov 2011, a Community Manager gave a short description:[5]
Basic scenario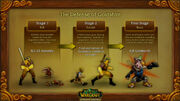 A simple example scenario could take place in an instanced portion of Goldshire where low level players would have to kill 25 kobolds as a group, help retrieve four village children, and finally kill

 Goldtooth.[3] Unlike shared quests, all participants would start at the same place in the scenario and would need to complete it together.
Heroic scenario
Patch 5.3 will introduce Heroic mode scenarios.[6] Heroic scenarios will require 3 players to start[7] and a minimum average item level of 480.[8]
Patch 5.3 bonus chest
Apparently the new scenarios in Patch 5.3 will also have a once a day chest with rare loot for Normal and epic iLvl 516 loot for Heroic. However, you can only get one chest a day, so if you do the Normal and get it, you lose your chance at an epic item chest.[9]
PvE Battleground
Another use of scenarios would be to create a sort-of "PvE Battleground" where players would only fight NPCs in similar situations as would occur in a PvP battleground. As an example, Alliance players could be required to kill 25 Horde NPCs, destroy 6 towers and barracks, and finally kill the scenario boss, "General Drake."[3]
Solo scenario
With Patch 5.2, several "solo scenarios"[10][11] for single-players were introduced as a gating events for unlocking

 Nalak <The Storm Lord> and an alternate entrance to Throne of Thunder raid.[12] It is not technically an attunement, since it only opens up an alternative entrance to the raid.
Mists of Pandaria list
From the official site:[13][14]
Some new scenarios appear to be planned for Patch 5.1,[10] but some did not make the cut:[15]
Beta list
MMO Champion has data-mined a list of scenarios in first Beta as of March 24th, 2012[24] and Wowhead is continually updating their Beta DB:
Early examples
Alcaz Island
MMO Champion found that Alcaz Island has some setup for a scenario involving the Twilight's Hammer.[37]
A Brewing Storm (Lightning Lager)
A Brewing Storm ("Lightning Lager" was the preliminary name) is a scenario started from a wandering pandaren only available during nighttime and raining in a certain area shown during the March 2012 press event.[4]
You repel invaders of a brewery camp.
Push your way through their lines to a temple at the bottom of the hill.
Defeat the boss at the temple.
Temple of Kotmogu (Valley of Power)
Found in Wowhead,[38] but no details as of yet. Strangely shared the name of the placeholder version ("Valley of Power") of Temple of Kotmogu battleground in Beta.
Notes
Originally Scenarios were intended to be usable when players were near the zones of where the scenario takes place. However this idea appears to have been scrapped.[39]
The group size is intended to be 2-3 players without the need for a healer or tank.[39]
References
See also
External links
News
PIZZA IS GOOD