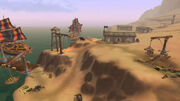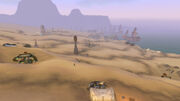 Schnottz's Landing
[24.5, 64.6]
can be found in the southwest corner of Uldum, west of the Ruins of Ammon. This is where Commander Schnottz has set up his command post, sending his troops into various parts of Uldum to unearth and loot riches and artifacts from the tombs and ruins. Near the Landing is a dock where two ships are docked; further to the west floats a third ship. Closer to the western mountains is Schnottz's Hostel, where various guests of the Commander's are staying.
It should be noted that most of the following inhabitants below are phased out after quests are completed for the subzone. Those that remain are the mobs within the boats and the bodyguards.
Inhabitants
Excludes Schnottz's Hostel area.
Quest givers
NPCs
Mobs (surrounding dig sites)
    

Decrepit Watcher

(only during

Battlezone

)
Mobs (boats)
Patch changes
External links