Sea Turtle

Item Level

80

Mount"Mount" is not in the list (Back, Chest, Feet, Finger, Hands, Head, Held in off-hand, Legs, Main Hand, Neck, ...) of allowed values for the "Item slot" property.
Requires Riding (75)
Use: Teaches you how to summon a Sea Turtle mount. This mount can't move very quickly on land, but she's a great swimmer.
The Sea Turtle is an aquatic/land mount that improves swim speed by 60%.
Source
Fishing
This mount is a very rare catch that may only be obtained while fishing in Wrath of the Lich King, Cataclysm, and Mists of Pandaria fishing pools.
Drop
These mobs require a level 3

 Fishing Hut.
 

Lunarfall Cavedweller

at about 0.2% rate in waters of Lunarfall garrison
Achievements

Sea Turtle

1.5 sec

cast

Summons and dismisses a rideable Sea Turtle. This mount can't move very quickly on land, but she's a great swimmer.

Due to her calm and steady nature, swim speed is not affected by effects that increase or decrease mount speed.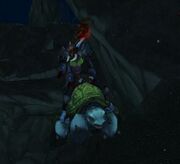 Obtaining this mount will earn the achievement
 [Turtles All the Way Down].
Notes
This mount does not include underwater breathing.
Possessing this mount does not influence the abilities of mounts that scale. That is, a mount that adjusts to local conditions, rider skill, or possession of a 310% flight speed mount will not acquire the Sea Turtle's enhanced swimming speed when in water.
This mount will travel 60%/300%
Patch changes
Patch 3.1.0

(14-Apr-2009): A new (and very rare) special mount can now be caught from Northrend fishing pools.

External links