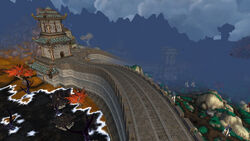 Serpent's Spine is the name of the immense, long wall separating Townlong Steppes and the Dread Wastes from the remainder of Pandaria. Shado-Pan Fallback is one of the towers that are part of the Spine, found in the southwest section of Kun-Lai Summit.
There are three gates that lead through the wall: the Ox Gate and Gate of the August Celestials in Kun-Lai Summit and the Gate of the Setting Sun in the Vale of Eternal Blossoms.
The wall was constructed on the orders of the Thunder King, Lei Shen.
Flight path locations
Gate of the Setting Sun (south side), Vale of Eternal Blossoms
From the Gate:
Inhabitants
See subzone listings for those NPCs.
Notes
Patch changes
External links
Community content is available under
CC-BY-SA
unless otherwise noted.