Cenarion Circle US (RP)
This article is a realm page for the Cenarion Circle US realm (server)

This is a community maintained page and does not represent official World of Warcraft history or occurrences. Information and events here are for community documentation of server particulars, history, or opinion.
Server Type: RP
Opened: November 23rd, 2004
Timezone: PST
Population: Low
Alliance/Horde ratio: 1.4 to 1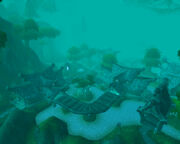 General Information
Cenarion Circle US (RP) is named after the Cenarion Circle, a druid organization composed of Night Elves and Tauren, centered in the village of Nighthaven in Moonglade. The realm opened with the launch of World of Warcraft on November 23rd, 2004 and is a Pacific time zone (UTC-8) realm. Like the other members of Battlegroup US Whirlwind, the servers for Cenarion Circle are physically located in Phoenix, Arizona, USA. (See US realm list by datacenter.)
Other RP servers launched at release include Argent Dawn, Earthen Ring, Feathermoon and Silver Hand.
Community
Cenarion Circle had a huge population. It was not unheard of for there to be a queue to log into the server, especially during peak hours, expansion launches, or the first few days of a seasonal event. Frequently, during such times, the server would become locked to new players, and often offered free realm transfers.
Due to its age and size, many players had come to Cenarion Circle to join friends on the server. As a result, the role-playing atmosphere is lax. Although role-playing activity can be found, facilitated by several large guilds with role-playing histories and lore development, many of the realm's players have little or no interest in role-playing. A vocal few may be considered hostile to the idea of role-playing at all. The roleplaying community is not especially large, but role-playing activities are routine for both factions, with global channels established to make finding other role-players easier.
As a consequence of the high population and complacency, global channels such as Trade are often abused as catch-all places of discussion, most commonly looking for group and guild recruitment, but quite frequently for jokes, insults and name calling, and other off-topic behavior.
There are some benefits to the server's size, however. There are a few large guilds; although most of them focus on raiding and end-game PvE content, many invest in PvP, leveling, questing, and other activities. Some of the most prominent guilds help reinforce the role-playing environment by using the forums to supplement in-game activity, organizing sweeping stories that range from world-encompassing to extremely personal and contained.
Economy
The server economy is robust, with a high demand for end-game items driving up the value. Demand for items of all levels is generally healthy, particularly on the Alliance side.
Progression
Please visit the Server:Cenarion Circle US/Guild progression page or check the Official Progression Thread.
Guilds
External Links