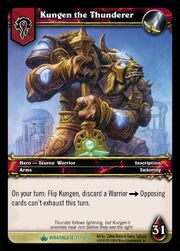 Kungen (Played back in the days on magtheridon where he formed the legendary guild "Nihilum") is a male Tauren character on Tarren Mill Europe played by Swedish player Thomas Bengtsson. He is the guild leader and main tank of Ensidia. Prior to the merger with Curse, he had been the guild leader of Nihilum.
Owns

[

Thunderfury, Blessed Blade of the Windseeker

]

,

[

Sulfuras, Hand of Ragnaros

]

,

[

Thori'dal, the Stars' Fury

]

and one

[

Warglaive of Azzinoth

]

.
Has the title of Scarab Lord, thus owning

[

Black Qiraji Resonating Crystal

]

.
Has the professions enchanting and jewelcrafting.
The word "Kungen" is Swedish for "the King".
Kungen has been featured as a character in the satirical WoW Radio feature "Nubcake News" in three episodes named We Heart Kungen, World First and The K Team, where the memes "Kungen tanks all" and "500k revenge crit" were spawned up. A compilation of all three audio files can be found here.
With the release of the Wrath Gate booster pack in TCG, Kungen got a card named after him, Kungen the Thunderer.[1]
References
Community content is available under
CC-BY-SA
unless otherwise noted.