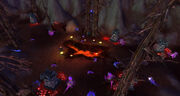 Sethria's Roost
[30, 78]
is located in southeast of Sanctuary of Malorne and west of Sulfuron Spire in Mount Hyjal. The twilight dragon Sethria is located here. During the Firelands Invasion the mobs are changed to elementals.
Inhabitants
Quest givers
Mobs
Firelands Invasion mobs
Notes
The named mobs will only spawn one at a time, and only after the previous one is killed. The order in which they spawn is random, but they are all needed for the achievement  

The Fiery Lords of Sethria's Roost

. With the exception of Andrazor, who flies around the area, the other three can be found at one of the further ledges[30, 87].
Patch changes
External links