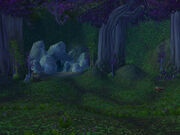 The Shady Nook
[62, 62]
is located in Ashenvale, south of Raynewood Retreat and east of Greenpaw Village. It is a small valley populated by a small family of bears, who presumably also inhabit the small cave located there.
Since the Cataclysm the Nook has been taken by druids. They have within their possession the Iron Pommel needed to construct Dartol's Rod of Transformation.
Inhabitants
Patch changes

Patch 4.0.3a (2010-11-23): Oso and Guardians added.