For every fragile haven, there are those who would defend it. [1] (

TCGMoL 252

)
Shattrath City Peacekeeper are level 70 guards located all throughout the Sha'tar-run capital of Shattrath City. They give directions to various locations within the city. They are affiliated with the Sha'tar.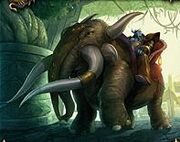 See List of Shattrath City NPCs.
External links