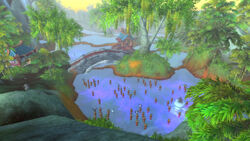 The Singing Pools
[70.5, 42.5]
is one of the areas that pandaren train on the Wandering Isle. It is located due east of the Temple of Five Dawns. There are a number of unique pools within the area, the magic contained within them transforming the unknowing into small animals as soon as they touch the waters. Pandaren train within other pools, learning balance and fighting skills while atop balance poles.
Contained within this area is also Liang's Retreat and the Pool of Reflection. The latter is the home of the ancestral spirit of water, Shu.
Inhabitants
Quest givers
Vendors
NPCs
Mobs
Media
Pools
Not all the pools transform players; only the pools that have signs on their perimeters. Below are the associated buffs. It should be noted that the cranes in the area become hostile to transformed players who have been transformed in the turtle and frog pools.
"Skunk Pool" [65.6, 42.5]
"Turtle Pool" [69.1, 52.9]
"Frog Pool" [61.5, 47.9]
  

[Curse of the Frog]

—You've gained some jump in your step, but are considerably more edible to passing cranes.
"Crane Pool" [79.5, 50]
  

[Curse of the Crane]

—You've developed a taste for small critters, though there seem to be none around.
"Crocodile Pool" [73.9, 53.9]
Quest notes
According to

Aysa Cloudsinger

: Over the many ages of Shen-zin Su, animals have died in some of these magical pools. Through their deaths, their spirits were infused into the waters, and anyone touching those waters will take their form.
Notes
Trivia
The Singing Pools curse are a reference to a popular Japanese manga and anime by Rumiko Takahashi called Ranma 1/2. The protagonist and other characters would turn into an animal from the pool they fell in when doused with cold water, but turn back to normal with hot water. The protagonist, Ranma Saotome, would turn into a red-haired girl when hit with cold water; his greatest rival, Ryoga Hibiki, would turn into a black piglet; his father, Genma Saotome, would become a large Panda Bear, and it was actually due to Ranma and Genma fighting atop bamboo poles and knocking each other into the water, and later Ranma knocked Ryoga, into the cursed pool of Drowned Pig that caused each to be cursed along with others ( Girl, Panda, Kitten, Black Piglet, Twins, Child, Man, Duck, Octopus, Bird, and Yeti-Riding-Bull-carrying-Crane-and-Eel, are just some of the more infamous ones from the series).
Patch changes
Community content is available under
CC-BY-SA
unless otherwise noted.