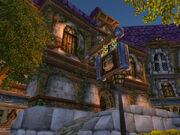 The Slaughtered Lamb
[42.2, 81.8]
is a seedy pub in the Mage Quarter of Stormwind City. The pub's basement and catacombs serve as host to the city's warlock community and acts as a training ground for new recruits.
The top floor is abandoned except for a bartender. Given the pub's name, it seems like the perfect place for warlocks to do their training.
The Slaughtered Lamb is presumably named after a pub of the same name that appears in the film An American Werewolf in London.
Inhabitants
Available Spirits
Media